Creating opportunities through volunteerism (SM employees volunteer to help KSK farmers)
CLICK HERE TO DOWNLOAD PDF VERSION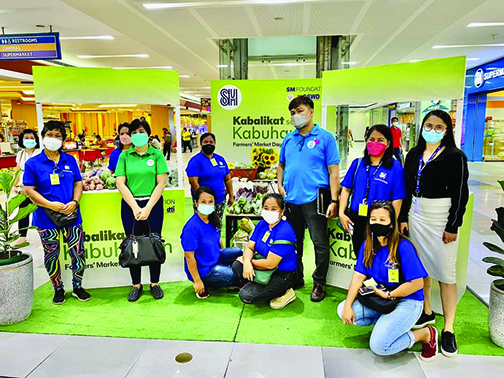 People helping people.
This philosophy of the SM group continues to live on and is evident at the Kabalikat sa Kabuhayan (KSK) Farmer's Market Day in SM Malls throughout the country.
In partnership with SM Supermalls, Department of Agriculture (DA), Department of Trade and Industry (DTI), Department of Social Welfare and Development (DSWD), Technical Education and Skills Development Authority (TESDA), SM Foundation Inc. (SMFI) aims to ensure the sustainability of the social and entrepreneurial development of KSK graduates through the KSK Farmers' Market Day.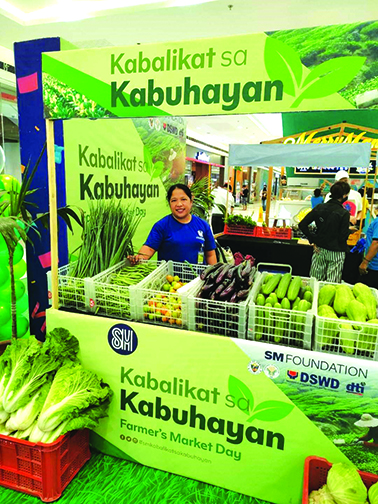 To strengthen this, they were given institutional selling experience by offering homegrown vegetables and fruits to their customers in designated pop-up booths at SM malls. Meanwhile, employees of the respective malls went the extra mile to assist the farmers.
Lending a helping hand
For SM City Mindpro Public Relations Officer Arnel Manahan, the experience goes beyond lending a helping hand:
"No money can replace the smiles on their faces when they were given the opportunity to sell their produce for free
at SM."
Manahan also coordinated with the farmers and the Mall Operations Team to hold the activity successfully. He also ensured that the public was informed about the activity through media partners and posting on the social media pages of SM City Mindoro.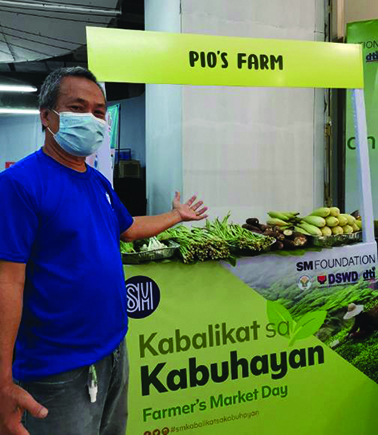 What moved him was the volunteerism and camaraderie among farmers when it became difficult for others to transport their produce from their farms, which were about 20-30 minutes away from the mall.
"During the fifth and sixth months of selling, Mang Pio, a farmer, generously shared his kuliglig, with the other group selling, Tolosa Farmers, and transported their produce to the mall. Lending their vehicle for free to the other group of farmers shows a great character. Despite the distance and weather, they didn't miss a day at the Farmers' Market Day."
Like Manahan, SM City Tarlac Public Relations Officer Shiela Mae Macaraeg-Solis has many fond moments with SMFI, especially with the KSK Farmers' Training Program.
According to Solis, they always support SMFI projects by providing the logistics needed to make the project a reality. "Our mall manager, Engr. Darrel Ramos would say that we will extend assistance to KSK projects however and whenever we can," she said.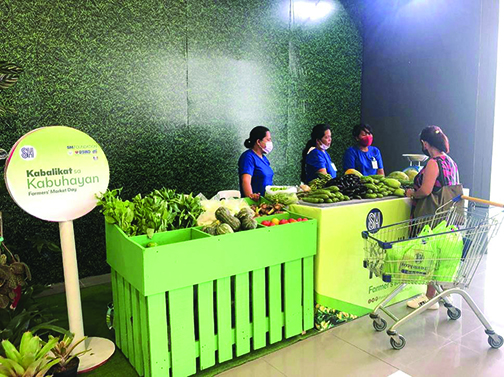 Their efforts are even more worthwhile as they meet KSK farmers like Emma Tolentino, owner of Eco Naturale
Training Site: "It's her passion, consistency, and genuineness that makes her a woman of inspiration. Aside from helping her fellow KSK graduates, she has other noble projects. She would partner with government agencies and other organizations to provide free training her fellow mushroom and organic vegetable growers."
SMFI's KSK aims to bring modern and sustainable farming skills to rural and urban communities to help farmers
have food on their tables and potential economic opportunities. To date, the program has trained more than 28,500
farmers from more than 900 cities/ municipalities nationwide.