When motivation comes from the heart
Motivation is crucial in achieving our goals. But is that all there is when it comes to pursuing our dreams? Where do passion and purpose come into the picture?
Thousands of SM scholars have proven for decades that opportunities and stepping stones provide a boost of motivation. But it is their deep sense of purpose–one that arises from the heart–that has enabled them to keep moving forward even in the face of challenges and setbacks. 
Below are the stories of two scholars, who are utilizing the power of purpose to achieve a better life.
Courage of Mark Christian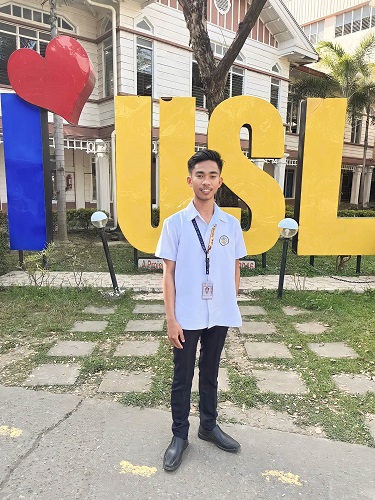 SM Scholar Mark Christian takes Civil Engineering at the University of St. Louis-Tuguegarao.
Mark Christian Balod is no stranger to hardships. As the eldest of three siblings, he had to toughen up when his father, Sherwin Balod, died a day before his high school graduation.
"He was even excited when he learned that I graduated as the valedictorian. Unfortunately, he wasn't able to witness it. He died the day before my graduation due to liver cirrhosis. Masakit po para sa akin marinig 'yung mga salitang 'condolence' after they congratulated me knowing na he was so excited to see my photo as I graduated at the top of my batch," he recalled what was supposed to be a joyful time for the family. 
"A lot of things changed when he died," he shared. "Lalo na tuwing nakikita ko 'yung Mama ko na umiiyak gabi-gabi longing for my father. I felt the desire to take the responsibility he left, especially in helping my mother go to the field. I was determined and felt more courageous, knowing that my mother is a teacher and at the same time, works at the cornfield too,just to sustain us financially. So, I promised my father nung namatay siya that I would do everything to uplift our family's situation someday."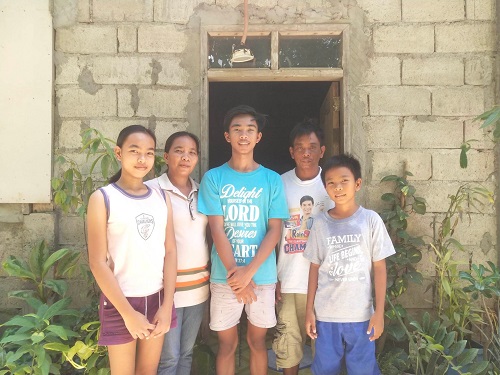 Mark Christian (third from left) with his family. He now strives to achieve the dream of his departed father (fourth from left) by taking up engineering.
Mark Christian is now working towards fulfilling his promise. While he once dreamed of becoming a teacher like his mother, Fe, he decided to take up civil engineering to pursue his late father's unrealized dream of becoming a civil engineer. 
However, while her mother works two jobs to fill the family's financial needs, her income is not enough to send Mark Christian to college and his two siblings to school. But thankfully, he saw a Facebook post about the SM Scholarship Program.
When he was applying and taking the scholarship's qualifying exam, he recalled that he had to run as fast as he could in the middle of the cornfield just to find a good internet connection. But after hurdling the exam, the same problem of poor connectivity had him in the field again, with him holding a flashlight as he fielded questions from the interviewer. 
But the difficulty he underwent was worth it as he is now among the current crop of SM scholars. Through his scholarship, he is pursuing his dream of becoming an engineer at the University of Saint Louis-Tuguegarao. For the academic year 2021-2022, he made it to the University President's list.
"SM Foundation gave me the opportunity to study at the school of my choice. Now, I can focus on my studies without thinking of financial challenges. And with this, I want to show the world that nothing is impossible as long as you persevere in life. Fortunately, SM Foundation is beside me to support my academic endeavors. I believe that with SM Foundation, I will be able to achieve my dreams and motivate my siblings to do the same."
Looking into the future, Mark Christian also dreams of working with the SM group after graduation. He shared: "I plan to work at SM not only because I want to return the support they gave me in my academic endeavors but because I believe that through SM, I will be able to further my career someday."
Ardence of Alyssa Kate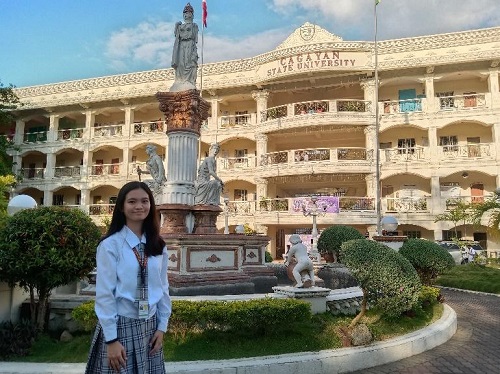 Alyssa Kate proudly stands in front of her dream school.
Like Mark Christian, fellow scholar Alyssa Kate Abuyuan draws passion from the heart as she grew up in a broken family.
Her mother works as a house helper and, at times, as a vendor. Her father, meanwhile, is an employee in a telecommunications company. But it was her grandmother, Natividad Abuyan, who stood as a parent figure to Alyssa and her siblings. 
This situation forced her to ardently navigate through life, utilize education as their ticket out of poverty, and a way for her to give back to her grandmother.
"For me, education is my ticket out of the cycle of poverty. It's a way for me to break free from the limitations that have held us back. It will create a better future for myself and my loved ones. I'll be able to secure a stable job and open up many doors of opportunity. I'm very determined to use my education to uplift my family and inspire others," she said.
True to her words, she finished high school with high honors. She also defied the odds and applied for an SM Scholarship so she could one day become a Certified Public Accountant.
With passion fueling her heart and the SM scholarship allowing her to make the most out of her education, she was on the President's List last school year and was also qualified for the Dean's List last semester.
As a bright future awaits Alyssa, she hopes to get there with her loved ones, especially her grandmother.
"I wholeheartedly offer my current and future success to everyone who has supported me, especially my grandmother. She has been an unwavering source of encouragement and guidance in my life. Without her, I wouldn't be where I am today. I hope to make her proud and show her that her support has made all the difference," she capped.
SM Scholarship continues to fuel dreams
The SM Scholarship continues to fuel the deeply rooted passions of deserving young students from low-income households, like Alyssa Kate and Mark Christian. This follows the belief of its founder, Henry "Tatang" Sy Sr., that education is one of the strongest weapons against poverty. 
As the foundation continues to spread social good through education, the SM College Scholarship application will run until March 31, 2023. To apply or learn more about the program, visit: https://www.sm-foundation.org/what_we_do/college-scholarship-program/