SMFI KSK: Spreading Social Good through multisector approach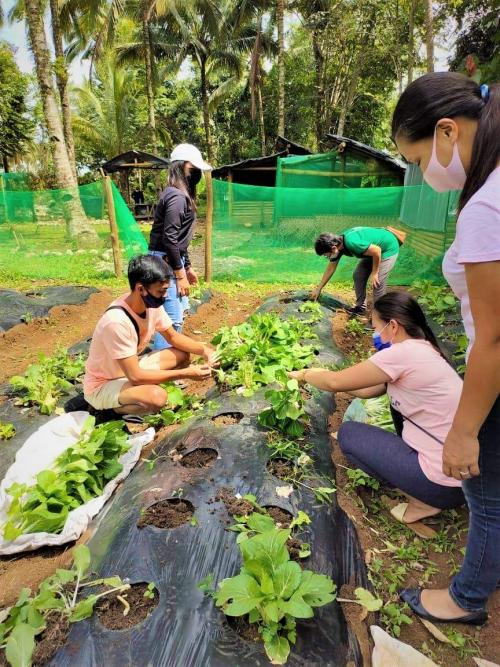 KSK farmers from Davao harvesting their produce.
Agriculture plays a significant role in the Philippine economy. According to the Food and Agriculture Organization of the United Nations (FAO), agriculture contributes an average of 20 percent to the Gross Domestic Product of the country. This output comes mainly from agribusiness, which in turn accounts for about 70 percent of the total agricultural output in the Philippines.
Aside from the contribution of agriculture in the country's GDP, the said sector provides employment to about 26 percent of the Filipino workforce coming from the countryside.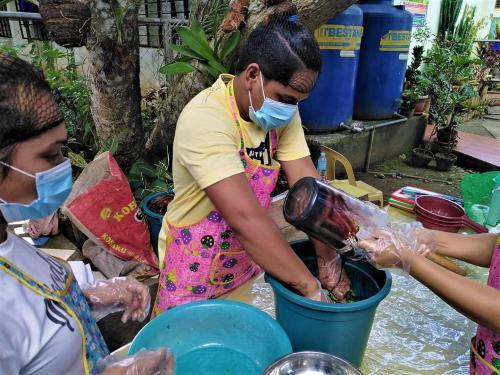 KSK farmers from Davao preparing their own organic fertilizer
To develop the agriculture sector to attain food self-sufficiency, uplift the economic status of rural communities and increase the income of the farmers, SM Foundation (SMFI) launched its Kabalikat Sa Kabuhayan on Sustainable Agriculture program (KSK) in 2007.
Starting its project runs in rural areas, the Social Good agri-program of SMFI has evolved through the years, eventually branching out to rural areas advocating urban farming - which became an alternative livelihood source to marginalized Filipinos living in the metro. This is a shift from the traditional thinking that the cultivation of crops can only be done in the rural areas.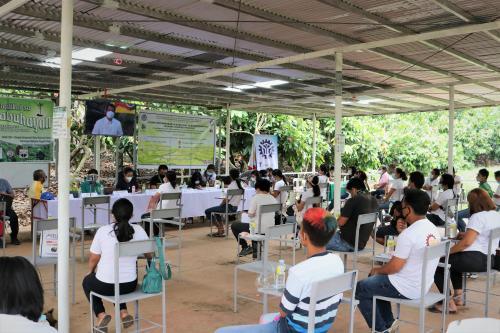 A KSK launch in Davao City attended by representatives from the LGU, TESDA, and other partners.
Creating a model for agri-collaboration
To put SMFI's vision for the agriculture into action, SMFI partnered with the Department of Agriculture (DA), Department of Social Welfare and Development (DSWD), Local Government Units, and various non- government agencies. This is in line with SMFI's goal of institutionalizing partnerships to advance sustainable agricultural development through multi-stakeholder approaches.
To further boost this multi-stakeholder approach, SMFI strengthened its partnership with the Technical Education and Skills Development Authority (TESDA) in 2019 - which provided scholarship grants focusing on Organic Agriculture Production NCII and Agricultural Crop Production NCII to almost 1,500 KSK beneficiaries nationwide. This does not only hone the skills of the farmers, but it also boost their morale for having an NCII certificate. Moreover, the KSK farmers serve as an inspiration to their children and other relatives to further their knowledge in farming.
In addition to the scholarship grant, TESDA's partner schools also served as advisors or "Big Brothers" of the participants. The program eventually created a new path wherein beneficiaries, aside from establishing their own agri-enterprises, are able to land green-collar jobs.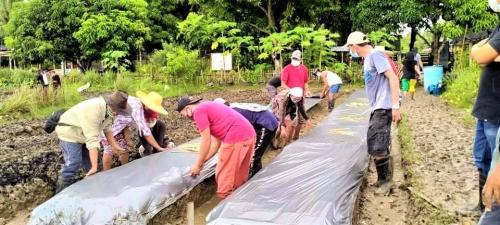 KSK farmers from Iloilo setting up their plastic mulch.
The COVID-19 created a lot of challenges in the agricultural sector. Lockdowns affected the flow of goods from farms to urban markets. Agricultural labor faced mobility issues. The reduction in local demand and export demand is pervasive as families lost buying power.
But the pandemic did not stop SMFI in implementing its social good program on sustainable agriculture. As a strategy, the social good arm of SM reprogramed its KSK program implementation to conform to the existing local government and IATF rules and regulations. Through multi-stakeholder virtual consultations, SMFI, together with its partners innovated their approach to address the challenges brought upon by the pandemic.
As a strategy, SMFI strengthened its regional execution by utilizing digital technology to coordinate with local-based partners. Blended and flexible learning (face to face and virtual) was also adopted to cascade each agri-module - even video communications from partner stakeholders were prepared in advance in anticipation to poor telco connectivity since the program is implemented in grassroot communities. As for the training module itself, the multi-stakeholder group incorporated all of their technical courses into TESDA's modular activities - creating added value to their existing curriculum.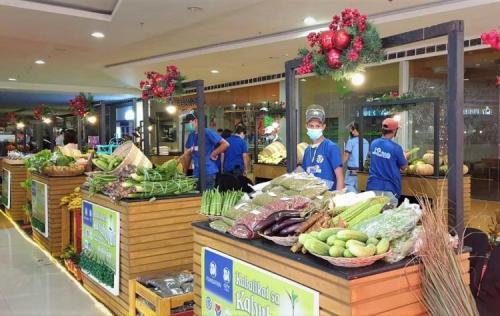 KSK Trade Fair in SM City Iloilo.
Multi-stakeholder approach to open agri-opportunities
Despite the pandemic, SMFI together with its partners was able to implement its sustainable agriculture program in more than 30 sites in eight provinces, providing 1,300 local farmers with competitive skills in agriculture certified by TESDA through their National Certificate Program - expanding opportunities for them in the agri-sector labor force.
Big Brothers St. Isidore "The Farmers Learning Center" in Pampanga, Castro Tomas Agri Techture Farm School in Tarlac, D'Planners Farm School in Bataan, Reotutar's Garden Farm School in Pangasinan, D' Casuga Integrated Farm School in Davao, and Centre for Agri-skills and Livelihood, Inc. mentor participants by collaborating with partner agencies in post training activities and consolidation of produce. Participants were empowered to create marketing opportunities based on available resources. They are now selling in churches, public markets, online selling, trading posts, biyaheros, government agencies, SM and in their communities. Some donates to community pantries.
The program also opened local agri-enterprise opportunities for KSK farmers. Through SMFI's partnership with DSWD, DA, and DTI, the program was able to provide grants to qualified participants that they may use for their agri-start-ups. They were also provided additional trainings that will help them further their business acumen.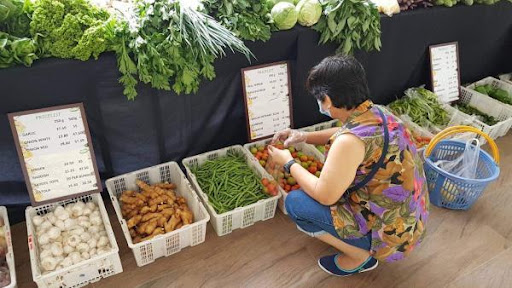 Local produce from KSK farmers were sold at SMDC Good Guys Market.
And to provide market to KSK Farmers, the multi-stakeholder group also partnered with SM Markets, SM Supermalls (Trade Fairs) and SM Development Corp. (SMDC) (Good Guys Market), providing them with avenues to sell their local produce. This program component did not only ensure food security of SM customers but it also provided economic opportunities during this challenging time.
Through SMFI's multi-stakeholder approach, Kabalikat sa Kabuhayan on Sustainable Agriculture was able to pool resources that enabled the social good program to scale-up, reaching more people and increasing the impact of interventions. The strategy has made it possible for various sectors to invest in smallholder farmers, giving them access to modern agri-technology, finance and markets - aside from training them in applying climate-smart agricultural practices.