VolunteeriSM thrives in SM Group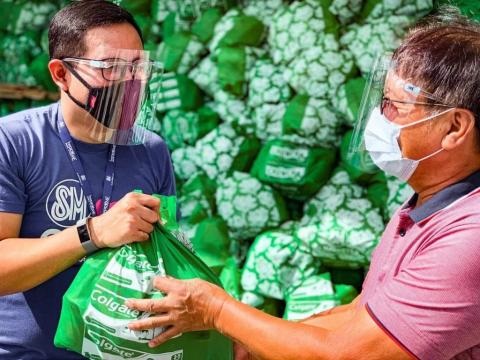 SM employee volunteers dedicate their time and effort to help those in need.
It is during these trying times that the spirit of volunteerism greatly shines among SM employees. Volunteerism in the SM Group is so infectious that it attracts employee engagement - from rank-and-file employees up to their senior management guided by the company's principle of people helping people.
In the recent typhoons that hit the country, SM employee volunteers were quick to offer their time and effort in order to give assistance to their affected countrymen. With the help from volunteers, thousands of Kalinga packs were immediately distributed to families displaced by Typhoon Rolly and Typhoon Ulysses.
This was made possible through the Operation Tulong Express (OPTE) program of SM Foundation (SMFI), in collaboration with SM Supermalls and SM Markets, which aims to address the needs of communities during calamities and crises.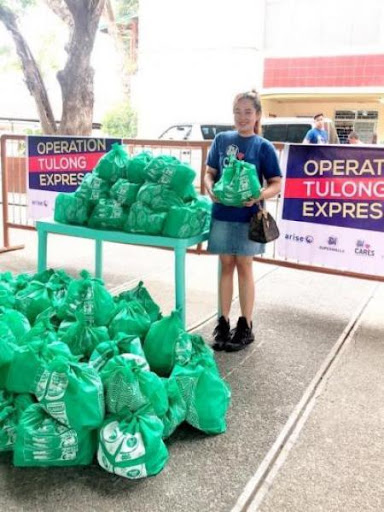 ​
SM City San Pablo PR Manager Nina Wong volunteers in various SM Group initiatives
During a kumustahan session, some employee volunteers shared what drives them to volunteer their precious time and effort in times of need. They are unanimous in saying that being part of the SM family and its values of sharing and caring for people have become embedded in their psyche.
Two middle managers of SM Cauayan—Berna Kamila Martin (for tenant relations) and Mateo Pamittan III (for building administration)—were among the mall employees who rushed to the mall in order to pack and distribute Kalinga packs to the flood victims in Cagayan and Tuguegarao.
Kamila shared that her passion for volunteering emanated from the civic-mindedness of her parents. She also said that it helps that her immediate supervisor supports her in this endeavor. "I participated in SM's relief operation and other volunteerism initiatives because I care for people who are in need," Kamila said. She has been working with SM SCMC for the past six years. She mentioned that volunteering provides her with a sense of purpose, makes her "happy" and fulfilled especially when she sees people smile despite being affected by a calamity"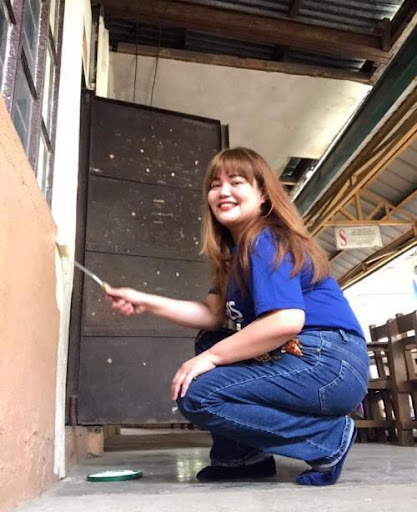 ​
SM City San Pablo PR Manager Nina Wong volunteers in various SM Group initiatives
Like Kamila, Mateo volunteered in the recent distribution of Kalinga packs to Ulysses' victims in Cagayan and Tuguegarao. His reason: "as embodied in the company's mantra of caring and providing assistance to affected communities, volunteerism is the best way to show how we care, support and connect deeper with others, especially to those living in our host communities."
He has volunteered around 15 times in his 7 years with the Shopping Center Management Corp. He said that he finds the value of life in sharing and helping others. As much as he can, he volunteers in most, if not all, during SM's efforts on relief and medical missions, especially in flooded and typhoon-devastated areas.
Nina Wong, PR Manager of SM City San Pablo, shared that people volunteer for a variety of reasons but for her, the volunteering experience that she gets from SMFI also gives her a chance to learn more about the company she works for and to give something back to the community and make a difference. "Regardless of the motivation, what unites us all is that we find it both enriching and rewarding to be of service to others."
In her nine years with SM, she lost count of the number of times she volunteered and supported all the programs of SM. From big tasks like helping SM Foundation organize a medical mission in Laguna to smaller ones like attending Angels Walk for Autism, she has selflessly devoted herself to the cause.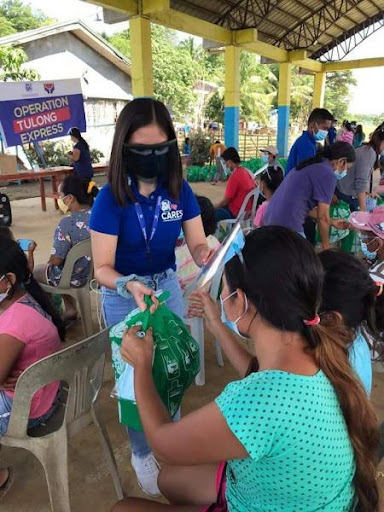 ​
SM employee volunteers dedicate their time and effort to help those in need.
"In volunteering, I feel like I am part of something bigger and that I am making a difference and there is that pay-it-forward effect—it is a good feeling," she shares.
She confides that she inherited from her parents—both public school teachers—the essence of being selfless. "Growing up, I saw them take care of their students as if they were their own, making sure they learn. They have dedicated their lives in teaching in a public school where we all know that some kids can barely afford to go to school every day," Nina ended.
Employees like Kamila, Mateo, and Nina demonstrate that the power to address any crisis and disasters is also in our hands. Since the coronavirus struck the country - up to the typhoons that devastated our fellow countrymen in Luzon, people have been eager to help those in need, even when they can't do it in person. By mobilizing volunteers to help where they are needed most, corporate foundations like SMFI have the opportunity to help the country rise above each crisis and at the same time, engage and motivate their own employees. Together with the employees of the SM Group, SMFI can leverage the skills and actions of their teams in order to spread social good.