UNIQLO, SM Foundation donate hand washing facilities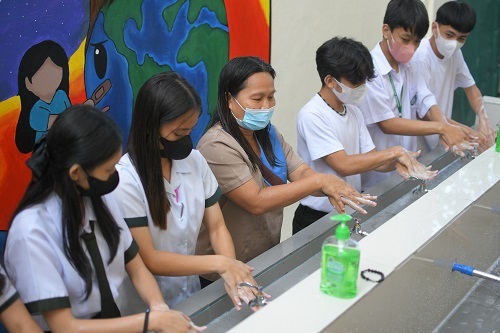 Students of Calamba Integrated School (CIS) wash their hands at the new hand washing station from SM Foundation and UNIQLO.
In another collaboration for social good, SM Foundation, Inc. (SMFI) and UNIQLO Philippines simultaneously turned over new handwashing facilities through the Balik Eskwela Program last January 24, 2023.
Advocating hand hygiene and safe resumption of in-person classes, the initiative commenced on December 6, 2022, in 10 schools: Caritan Norte Elementary School in Tuguegarao, Joaquin Smith Elementary School in Baguio, Masamat Elementary School in Pampanga, San Vicente Elementary School in Angono, Calamba Integrated School (CIS) in Calamba, Maria Clara High School in Caloocan, Villa Esperanza Elementary School in Bacolod, Nabitasan Elementary School in Iloilo, Dadiangas East Elementary School in General Santos, and Cagayan de Oro National High School in Cagayan de Oro.
During the turnover ceremony in Calamba, SMFI Trustee, Engr. Ramon Gil Macapagal shared the pivotal role of partnering with like-minded groups in order to strengthen the foundation's mission of spreading social good.
"In SM Foundation, we have been working on social good programs and environmental good programs. One way of spreading social good is to be in partnership with people with a common mindset—one of them is UNIQLO," Macapagal said.
Meanwhile, UNIQLO Chief Operating Officer Geraldine Sia shared that the initiative forms part of their sustainability efforts as they celebrate their 10th year in the country.
"Our goal is to provide our students with the proper facilities conducive to their school experience as they return to on-site study. We at UNIQLO and SM Foundation, through this Balik Eskwela program, aim to support our community partners' needs and provide them with necessary resources, helping improve facilities to make both students' and teachers' onsite schooling a more safe and comfortable experience," Sia said.
"By providing handwashing facilities, we helped provide access for them to continue observing health protocols and alleviating the spread of the COVID-19 virus when they are at school," she added.
​
UNIQLO Chief Operating Officer Geraldine Sia visits the winning mural painting in CIS.
While upgrading the schools' hygiene fixtures, SM Foundation and its partner also mounted school-wide mural painting contests, bannering the theme "How to take care of the Earth and become more sustainable." The winning art pieces were aptly painted alongside the schools' new hand-washing facilities to promote sustainability and underscore the importance of taking care of the Earth.
Cathleen Antonio, mural painting contest winner in CIS
​
Representatives from SM group and UNIQLO use the newly installed facility.
Hand in hand towards better health
Principal Arlene Garcia of CIS, one of the beneficiary schools and one of the most populated schools in Laguna, lauded the initiative during the ceremony and noted the benefits they have been experiencing.

Students, staff, and teachers of CIS, UNIQLO representatives, SM malls employee volunteers, and SM Foundation representatives come together for a photo opt to cap the celebration.
"We have very few cases of COVID-19 and upper respiratory illnesses, like coughs and colds. Cases of Hand Foot and Mouth Disease were reported in the Philippines, but thankfully we did not record any cases here in our school. We are hopeful that with the additional facilities, the cases of hand hygiene-related and communicable diseases will be mitigated," she said.
"Especially now that the hand washing stations are beautiful and more accessible, I have observed that students enjoy washing their hands. In time, I hope that they will develop this into a habit," she shared.
Moving beyond the scope of the project, SM Malls employee volunteers spearheaded the repair of several classroom facilities in their respective cities and municipalities and are key in the successful implementation of the joint initiative.