Strengthening the capacity of typhoon-hit health centers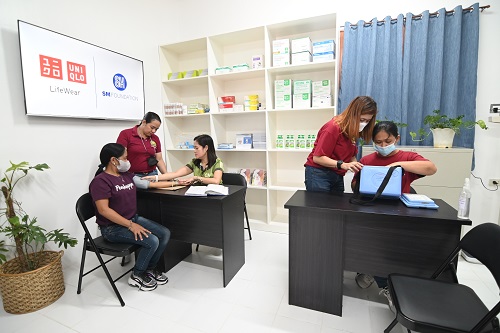 Inside the newly refurbished Brgy. Canlalay Health Station, Biñan, Laguna 
For the SM group, social good moves beyond charity. It means allowing communities to move towards progress, giving them the opportunity to have safe, healthy, and productive lives. 
In fulfilling this mission, SM Foundation recently collaborated with UNIQLO Philippines to provide much-needed assistance for Paeng-hit communities, particularly health centers that provide basic health care services to low-income communities. 
This was echoed by SM Foundation, Inc. (SMFI) Executive Director for Health Wellness Program Connie Angeles during the turnover of the renovated Canlalay Barangay Health Station and Rosario Rural Health Unit – Annex, 192nd and 193rd SMFI Wellness Center and the 20th and 21st center under the collaboration for social good with UNIQLO, respectively. 
#CollabForSocialGood 
Through the collaboration, the Paeng-affected health centers were able to address challenges that had long impeded their safety and functionality—from lack of appropriate medical equipment and facilities to worn-out structures. 
With the repair and rehabilitation, both health stations are now made more conducive to dispensing their services.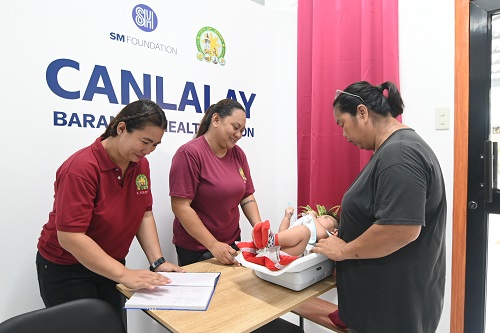 Health Workers attend to the needs of residents of Brgy. Canlalay 
For the structure, SMFI's Health and Wellness team aptly responded to the calls raised by local health workers and community leaders. Each center was fitted with new signage, medical equipment and tools, such as delivery beds, dressing carriage, vaccine refrigerator, and breastfeeding areas.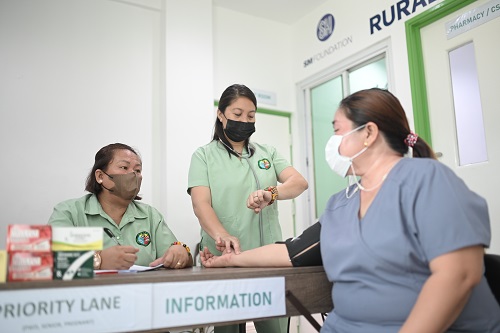 Inside the Rosario Rural Health Unit-Annex, which was upgraded through SMFI and UNIQLO Philippines' social good collaboration. 
Aside from revitalizing the center from floor to ceiling, SMFI also equipped them with glass doors to replace termite-infested doors and windows, new bathroom fixtures, television sets, filing and medicine cabinets, tables, chairs as well as inverter-type air-conditioning units, and LED lights. 
Amidst the renovation, Dr. Noriel Emelo of Rosario Health Unit-Annex extended his gratitude to "Thank you very much to SM Foundation and UNIQLO Philippines for the renovation of the health facility and new equipment to be used for patient care and services as these would be a great help for the communities that we serve."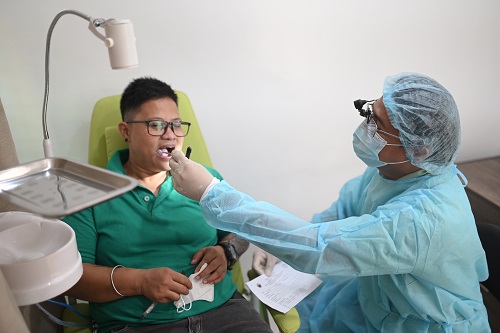 Aside from other preventive care, patients receive quality dental health care inside the renovated Rosario Rural Health Unit-Annex 
Biñan City Health Officer Dr. Mirabelle Benjamin also shared, "In our community, we have a school that serves as an evacuation center. So, when a typhoon hits, it's strategic that we have a reliable health center nearby. We are also thankful because we have partnered with SM, who helps us ensure the long-term functionality of our health centers." 
Uplifting communities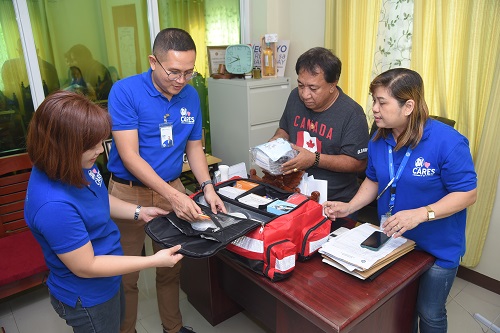 Partner communities in Bulacan affected by Typhoon Paeng receive a fully equipped Emergency GoKit+ 
Earlier this year, the partners provided Emergency GoKit+ to 43 flood-prone communities hit by Paeng in Zamboanga Del Sur, Rizal, Laguna, Cavite, Batangas, Pampanga, Bulacan, Isabela, and Cagayan, enabling them to provide immediate first-aid responses during disasters. 
Meanwhile, over 2,400 typhoon-affected families also received dinner sets through the collaboration.