SMFI, Bata donate shoes for PGH frontliners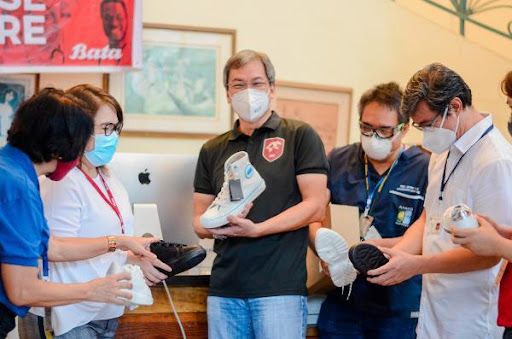 Bata Philippines General Manager Arlyn Guanlao and UP PGH Director Dr. Gerardo Legaspi during the distribution of Bata shoes at the Philippine General Hospital.
Bata, a world-renowned shoe brand with over 6,000 retail stores across the globe, partnered anew with SM Foundation (SMFI) in donating 1,800 pairs of shoes for the frontliners of the Philippine General Hospital as part of Bata's Global 1 Million pairs donation project.
This social good collaboration emerged from SM Foundation and Bata's commitment to support the needs of our frontliners during this COVID-19 pandemic. With the distribution of the donated footwear, both the SMFI and Bata expressed their hopes that this would provide comfort and protection to our brave frontliners in PGH while they are on duty.
​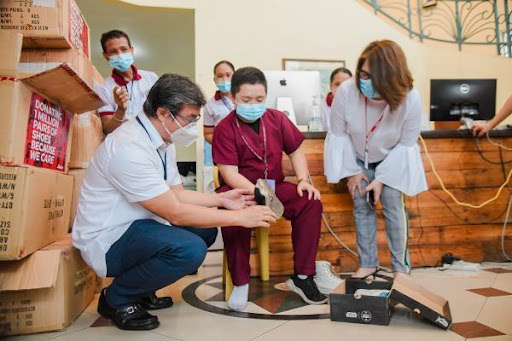 One of PGH's frontliners showing her worn out shoes. She was first to choose from the shoes donation of Bata.
"Bata Philippines donated these shoes as our way of saying thank you to our frontliners for the help that they have extended to the country during the COVID-19 pandemic," Bata Philippines General Manager Arlyn Guanlao said.
UP PGH Director Dr. Gerardo Legaspi expressed his gratitude to SM Foundation and Bata, "I'd like to thank SM Foundation for being ever supportive of our COVID-19 fight here in PGH. You have covered the whole spectrum of our needs from ventilators and now sneakers. Thank you to Bata shoes for having shared their different kinds of sneakers which I'm sure would go a long way into making our frontliners feel appreciated and comfortable when they work."
​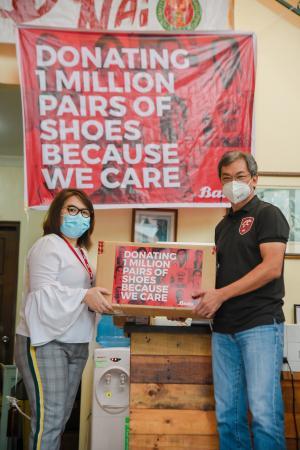 Through SMFI, Bata Philippines was able to donate 1,800 pairs of shoes to PGH as part of their "Bata Heroes" project.
"Due to long and often times back-to-back work shifts, a number of our health workers are experiencing foot and back pain. The need to constantly disinfect their shoes also results in faster wearing out of their footwear. SMFI and Bata wanted to provide our health workers with quality footwear to address this need and provide them with comfortable footwear and protection while at work and doing their rounds," SMFI Executive Director Debbie Sy said.
Since the onset of the outbreak, Bata through its "Bata Heroes" initiative has been working with its long-standing foundations, charitable partners, government agencies, and other organization to respond to the COVID-19 pandemic.
Through the years, SMFI and Bata have been collaborating on social good projects. In 2018, they teamed up to construct a new school building for Telabastagan Integrated School in San Fernando, Pampanga. They also collaborated last March
2020 for the distribution of 400 pairs of shoes for the students of Looc Elementary School in Nasugbu, Batangas.