SM Share Movement goes to Nasugbu, Batangas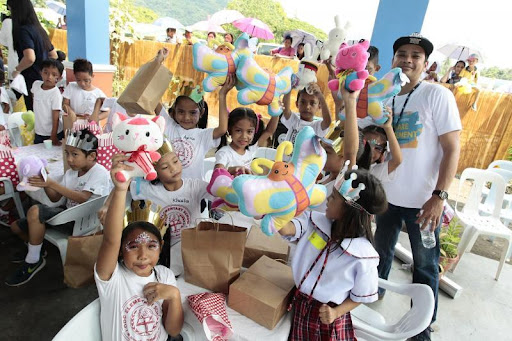 Students of Looc Elementary School celebrate after receiving their new toy from the SM Store's Share a Toy program.
Smiles as bright as Christmas lights, and laughter that invigorated like Christmas carols—these filled the grounds of the Looc Elementary School in Nasugbu, Batangas as The SM Store gave the students there an early Christmas present that is #SoMagical. Staying true to its commitment of bringing joy to communities where it is present, SM recently turned over its 100th school building donation, and The SM Store distributed toys to children.
It was only October 16, but it felt like Christmas morning. The students and teachers of Looc Elementary School could not contain their excitement as they took part in a morning of fun and games, a day before the official unveiling of the two-story, four-classroom new school building.
Christmas came early
Situated in front of the school's sprawling grounds that offer the students an unobstructed view of nearby mountains is a covered court. On that day, employee volunteers from The SM Store Batangas, The SM Store Lipa and Savemore Nasugbu worked like Santa's helpers to transform it into a festive spot, complete with balloons and party tables and chairs.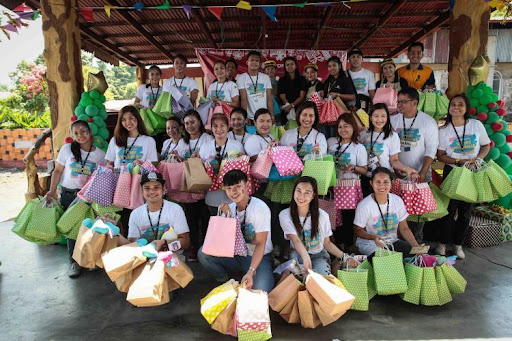 Employee volunteers from The SM Store Lipa, The SM Store Batangas and Savemore Nasugbu get ready to distribute toy gifts to students of the Looc Elementary School.
Students from Kinder to Grade 2 eagerly lined up, thrilled to witness a lively program and party with their friends and their newfound ates and kuyas. They were treated to fun performances from a magician, clowns, a balloon-twisting artist and a bubble artist. They also had their faces painted with flowers, butterflies, and superheroes. At the end of the program, they were given cuddly plush toys from The SM Store's Toy Department, clothes from its Children's Wear section and grocery items from Savemore. Christmas came early for these kids. It was a new and unforgettable experience for the children of Looc, whose families are engaged in farming or are working at nearby resorts.
Mikko, one of the students of Looc Elementary School, shared how he loved the gift and enjoyed the festivities, which was a rare treat in their school.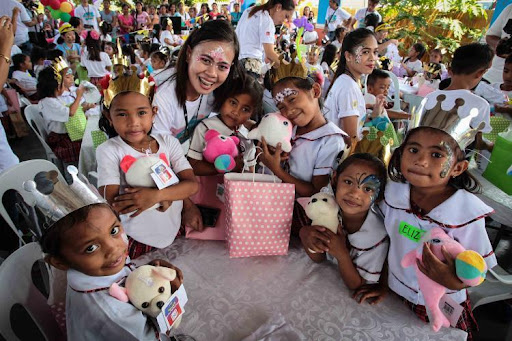 Christmas cheer fills the air as an employee volunteer of The SM Store and the children of Looc Elementary School smile for the camera after the Share a Toy activity.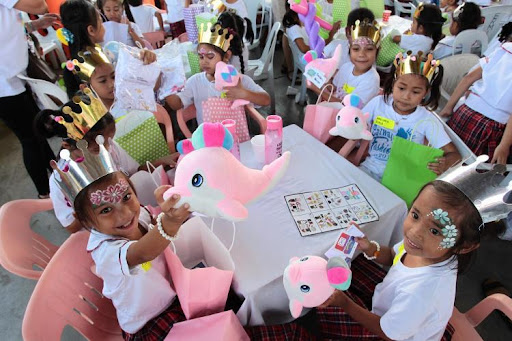 Students of Looc Elementary School excitedly show off the new toys they have received during the Share A Toy activity.
"Masaya po ako sa natanggap ko na regalo. Masaya at maganda din ang program kanina, nagpafacepaint pa nga po ako. Minsan lang po kasi may ganito dito sa amin. (I am happy with the gift that I received. I really enjoyed the program. I even had my face painted. It's not often that we get to enjoy celebrations like this)," Mikko said.
Dr. Luciana Tulagan, Principal of Looc Elementary, said that this event didn't just bring joy to the kids but also taught them the value of sharing.
"Malaki pong kaligayahan ang naibigay ng SM dito sa mga mag-aaral ng Looc Elementary School. Dahil sa Share A Toy ng The SM Store, maimumulat namin sa mga bata na dapat hindi lang tuwing Pasko ang pagbibigayan, kungdi lagi. (The SM Store brought great happiness to the students of Looc Elementary School. Because of Share a Toy, we can educate the children that sharing happens not only during Christmas, but there are everyday opportunities to do it.)
#SoMagical Christmas
Truly, the spirit of Christmas is in sharing. This Holiday season, The SM Store continues to nurture just that through its Share A Toy campaign.
"SM values creating a positive impact in the communities where we are present. We are really grateful that SM gave us the opportunity to be a part of this meaningful event and the chance to share the spirit of Christmas through the gift of toys with the kids of Looc Elementary School. This is a memorable experience that we'll treasure," said Shelamie Marasigan, Assistant Branch Manager of The SM Store Lipa.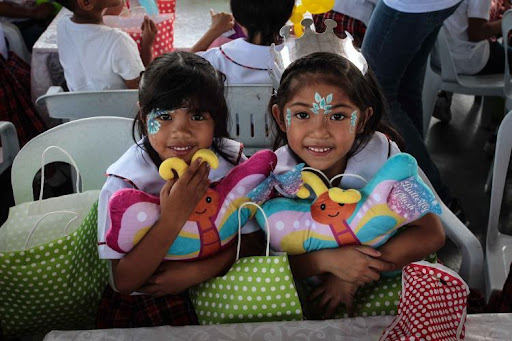 The kids cheerfully cuddle their new plush toys. 
The SM Store is encouraging its generous shoppers to give back and make a kid's Christmas #SoMagical by donating a new or pre-loved toy at the Share A Toy booth in all The SM Store branches nationwide. For every toy donated, the shopper will get a P50 discount voucher. The campaign runs from November 15, 2019 until December 31, 2019, with toys to be donated to beneficiaries of the SM Foundation.
These toy donations are a simple but meaningful gift for kids. More than just play items, toys are beneficial to a child's development according to studies. Toys can help increase their learning retention, stimulate their creativity and imagination, enhance their senses, spur their emotional and social development, and help in developing their hand-eye coordination and fine motor skills.
Magicians captivate the students of Looc Elementary School with their bubble show and other tric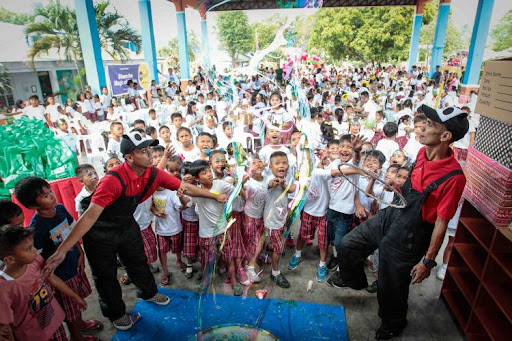 Magicians captivate the students of Looc Elementary School with their bubble show and other tricks.
Share A Toy is just one of the ways The SM Store inspires a culture of sharing and purposeful giving among its shoppers. Early this year, it conducted its Share Shoes program and Donate A Book campaign. Since its launch in 2015, The SM Share Movement has already collected more than 1.3 million items which include shoes, school supplies, clothes, toys, disaster kits and hygiene kits, which have been distributed across different parts of the country.