SM Prime holds 1st virtual SM Scholars Internship and Career Day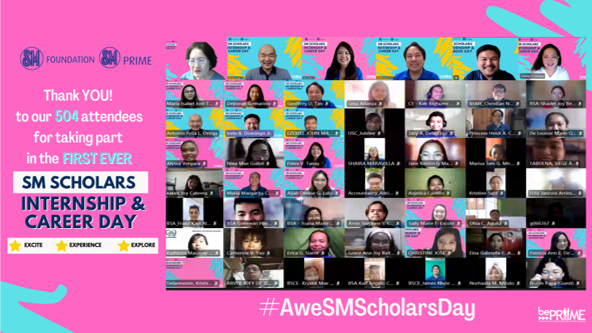 SM Prime recruitment team during the virtual internship and career day
More than 500 current and alumni SM scholars participated in the recent 1st virtual SM Scholars Internship and Career Day conducted by SM Prime (SMPH), in partnership with SM Foundation (SMFI).
This social good initiative aimed to provide a venue for SM scholars in the field of Finance, Accounting, Information Technology, and Engineering where they can further hone or practice their professional skills—contributing to the country's workforce which will lead to the betterment of the nation.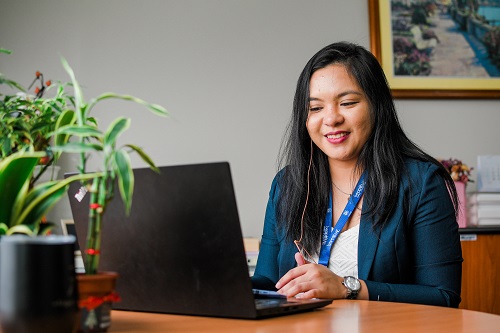 SM Prime recruitment team during the virtual internship and career day
This effort also targeted to equip SM scholars with an edge in their job-hunting journey as they were given vital insights by select leaders from SMFI and SMPH. Scholars went home imbued with a newfound #PrideInOurPurpose solidified by important life lessons of being performance driven, results oriented, and grit - which are anchored on the work life principles of "Tatang" Henry Sy Sr.
Of the more than 500 attendees, over 100 SM scholars already expressed their intention to apply to SM Prime while 80 sent their internship applications, as of writing. The processing of job and internship applications from the attendees is still ongoing.
SM scholar to SM Prime employee
While this event was the 1st virtual internship and career day held by SM Prime for SM scholars, SMPH has long been partnering with SM Foundation by offering the scholars with job opportunities during the annual Presentation of SM Scholar Graduates. SM scholar alumna Rizaly Lim, one of the many SM scholars hired by SM Prime, shared her experience on the onsite career day during her time.
"I took part in the career day by SM Prime way back in 2010. I recall the event being well-organized, the HR representatives who interviewed us being pleasant and courteous, and I believe everything went smoothly from beginning to end," Rizaly shared.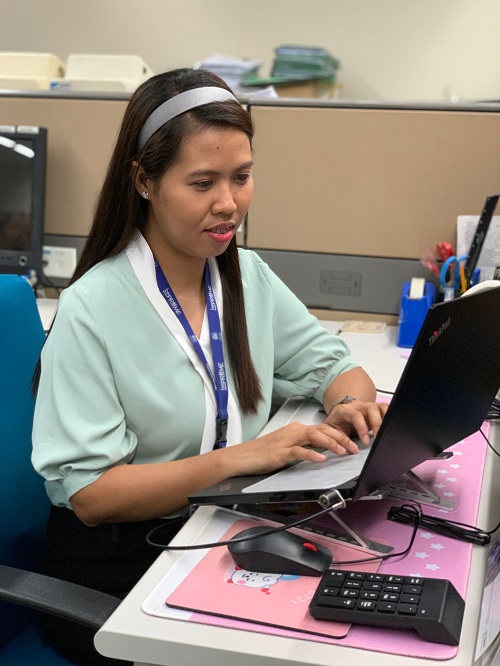 SM scholar alumna and current SM Prime employee Rizaly Lim
Currently, Rizaly is with SM Prime for over eleven years as Accounting Manager: "I'm proud to witness SM Prime consistently leading this type of initiative. I am grateful for the opportunity to be a part of that activity, which provided me with the stable job I have now. Also, I will always be grateful to SM Foundation, which not only financially supported me but also sincerely guided and cared for us scholars," she said.
"SM Prime does, indeed, play an important role in my life. I consider myself to be truly blessed to be a member of the SM Foundation family, proud to be an SM Scholar alumna, and forever grateful to be associated with SM Prime. SM truly has it all for me! Thank you again, SM Prime and SM Foundation!" Rizaly concluded.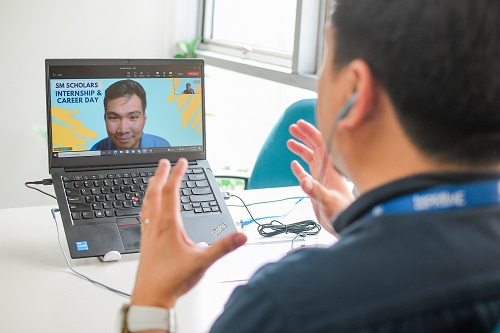 1st Virtual Internship and Career Day by SM Prime
SMFI, through its Scholarship program, provides deserving and qualified students with access to college education and technical-vocational studies since 1993. To date, SM has produced more than 8,000 college and tech-voc scholar-graduates.