SM Foundation welcomes new batch of KSK scholars
Pursuing its vision of a future with empowered farmers equipped with entrepreneurial and modern farming techniques, SM Foundation, Inc. (SMFI) recently rolled out the Kabalikat sa Kabuhayan on Sustainable Agriculture program (KSK-SAP) in Sta. Ana, Pampanga. 
Through the KSK-SAP initiative, around 50 farmers from Batch 232 and 233 will undergo two phases of training.
The first phase is a 14-week, season-long training program. This is a modular training, aiming to provide technology updates, capacity building, financial literacy, livelihood development, and market opportunities. The said phase will be capped by the Sunday Market, an initiative done in partnership with SM Supermalls, where trainees will have the opportunity to showcase their produce and experience institutional selling to develop their social skills.
To prepare for the second phase of the program, SMFI will assist the farmers in formalizing their respective groups, enabling the creation of a sustainable and profitable farming community that can contribute to the country's economic growth. To do so, SMFI will seek the assistance of its partner agencies in organizing, registering groups, and assisting with the accreditation of farmers' groups in different government agencies.
SM Foundation's Livelihood and Outreach Programs Project Supervisor Jennelyn Lizardo shares more details about the training with upcoming KSK farmer-trainees.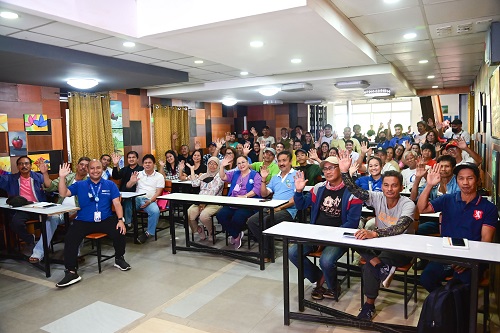 Leaders of SM Foundation, SM City Pampanga, partner school St. Isidore The Farmer Learning Center, Inc., and KSK-SAP Trainees from Batch 232 and 233 smile as they begin the KSK-SAP Farmer's Training.
"SMFI understands the importance of providing quality training and support to our farmers. We believe that by equipping them with the necessary skills and knowledge, we can help them achieve their full potential and improve their livelihoods. We are also optimistic that by working together, we can create a brighter future for our farmers and their families," Cristina Angeles, AVP for Livelihood and Outreach Programs said.
Meanwhile, Angeles shared that the trainees from Sta. Ana, Pampanga remained hopeful that the KSK would help them in finding a market that will support their livelihood while partners for the program have also shown overwhelming support for the KSK-SAP.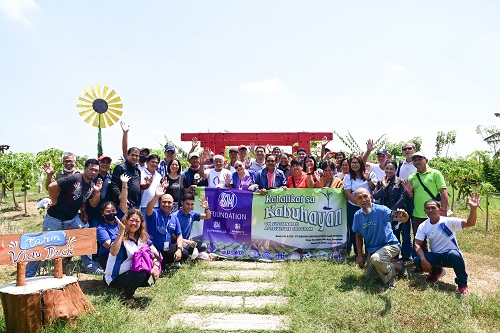 KSK-SAP Farmer-Trainees from Batch 232 and 233 mark the beginning of their training with a photo opt.
Beyond these, KSK-SAP underscores the importance of replicating our learnings to communities and producing farmer graduates empowered to gain TESDA National Certificates. SMFI is also keen on sponsoring the assessment fees of existing farmers should they have challenges in getting scholarship grants.
Empowered, effective agri-entrepreneurs
KSK-SAP budded from the mission of SM group founder Henry "Tatang" Sy Sr. to create a sustainable program that would update farming skills and food security and sustainable livelihood know-how of low-income Filipino farmers to uplift their lives. 
The vision of Mr. Sy has evolved into a holistic training program that now helps create opportunities and paves the way for skills enhancement, livelihood, and employment. 
Since 2007, the KSK-SAP has fueled the farming and entrepreneurial capabilities of over 28,000 marginalized rural and urban farmers nationwide. Some of the farmers' training graduates have become seasonal suppliers within the SM group and other local markets.
SM Foundation's KSK-SAP is conducted in partnership with SM Supermalls, TESDA, DA, DSWD, DOST, DTI, and partner farm schools.