SM Foundation, UNIQLO upgrade community health centers in Bicol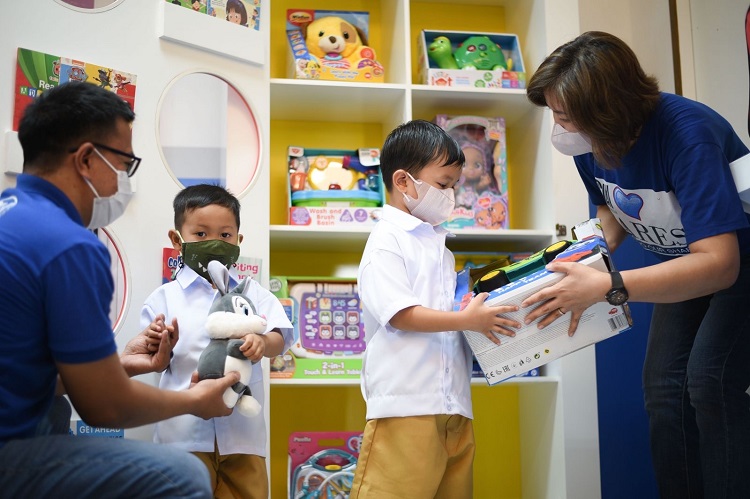 The social good partners, SMFI x UNIQLO, installed mobile play cabinets to cater to young patients of the barangay health centers.
SM Foundation (SMFI) partnered anew with UNIQLO and parent company Fast Retailing Co., Ltd to bring social good in various communities in the Bicol region.
The Bicol region, being in the eastern seaboard of the country, is prone to typhoons coming from the Western North Pacific Ocean. With its exposure to various natural hazards, it is inevitable for the region to suffer from frequent destruction, damage, and losses.
It is in this light that SMFI and UNIQLO saw the need to upgrade the community health centers in Bicol, which are already dilapidated and not safe for public use. These are the Angas Barangay Health Center in Basud, Camarines Norte; Cararayan Barangay Health Center in Naga City, Camarines Sur; and San Isidro Barangay Health Center in Baao, Camarines Sur.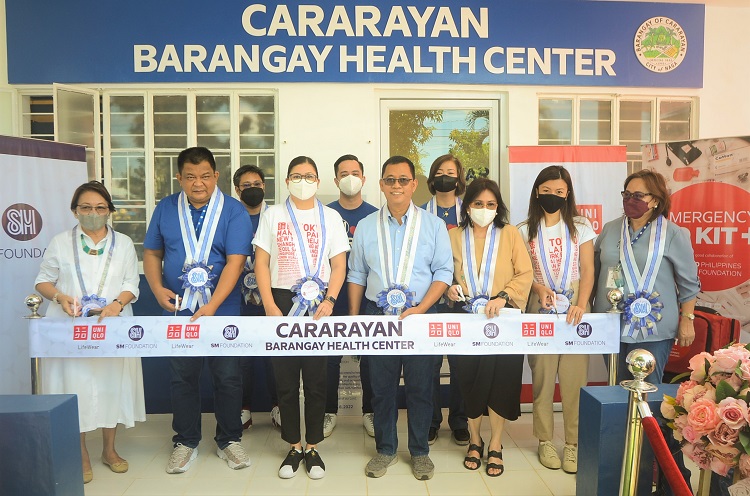 SM Foundation and UNIQLO Philippines officials and representatives formally turned over the newly upgraded barangay health centers to the local government units in the Bicol Region.
The two social good partners ensured to not just improve the facility in terms of the façade and looks, but also equip them with the necessary basic medical equipment, furniture, and appliances. More so, SMFI and UNIQLO officially launched the inclusion of the Emergency Go Kit+ to these health centers—making them ready for disasters and emergencies.
SMFI executive director for medical programs Connie Angeles said, "Health facilities play a very significant role in the mitigation of disasters because of their function in treating the injured and handling outbreaks of disease. These trying times, we believe that health centers are vital for community surveillance and response."
"We need health centers in the countryside that are equipped to treat people with minor injuries, which is extremely useful to reduce congestion and referral to hospitals or other more sophisticated medical facilities," she added.
Included in the improvements in the said health centers were: Patients' waiting lounge, Reception Area, Consultation Room, Pre-natal and Treatment Room, Meeting Room with Pantry, Mobile Play Cabinet for Children, Under -5 Clinic, Breastfeeding Room, and Medicine Storage Cabinets.
Furthermore, Angeles said that SMFI hopes that through this collab, the vulnerability of these communities will be reduced in times of disasters because of these strong medical infrastructures—complete with basic equipment: "This will ensure the welfare of our stakeholders – providing them with access to medical care services, whenever and wherever they need it, even in times of disasters."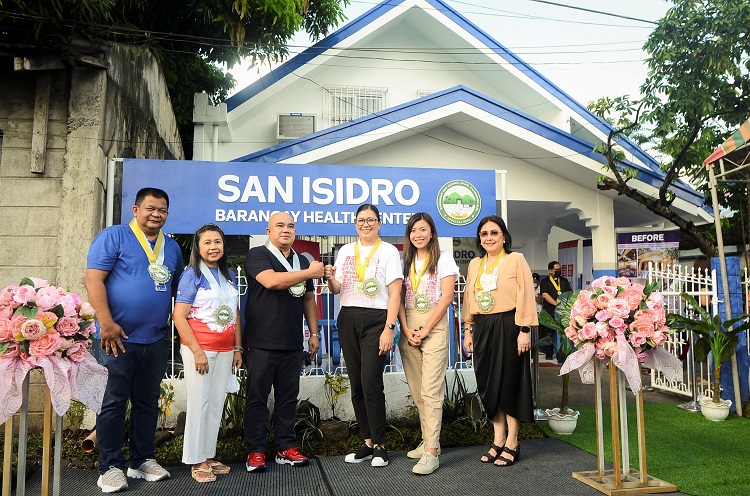 SM Foundation and UNIQLO Philippines officials and representatives formally turned over the newly upgraded barangay health centers to the local government units in the Bicol Region.
Community Engagement
During the Bicol Community Launches, SM representatives graced the event aside from Ms. Angeles, namely Engr. Jason Terrenal, SAVP, SM Supermalls; Mr. Lino Franco Morales, Mall Manager, SM City Daet; and Ms. Cristina Angeles, AVP, Outreach Program of SM Foundation.
Georgette B. Jalasco, Vice President for Marketing and Reiny Vergara, Public Relations & Sustainability Head on the other hand attended to represent UNIQLO.
According to the SMFI representatives, community engagement is an essential part of their awareness strategy. As a practice, each project is launched through a community event attended by key stakeholders together with local government officials – which helps them ensure that interventions are localized, relevant and sustainable for each specific community.
As an active partner of the social good proponents, various LGU representatives attended the community events namely Camarines Sur Vice Governor Salvio Fortuno Jr., Naga Mayor Nelson Legacion, Naga Vice Mayor Nene De Asis, and Baao Mayor Jeffrey Besinio. Barangay Captains and councilors also joined their local executives to cement their support to the program.
On the other hand, local agency leaders such as Naga DSWD Head, Annabel Vargas, Naga Health Office Head, Dr. Vito Borja, Baao Health Officer Dra. Marian Margate, and Baao Municipal Health Staff Geovanni Bigay were also present during the community events.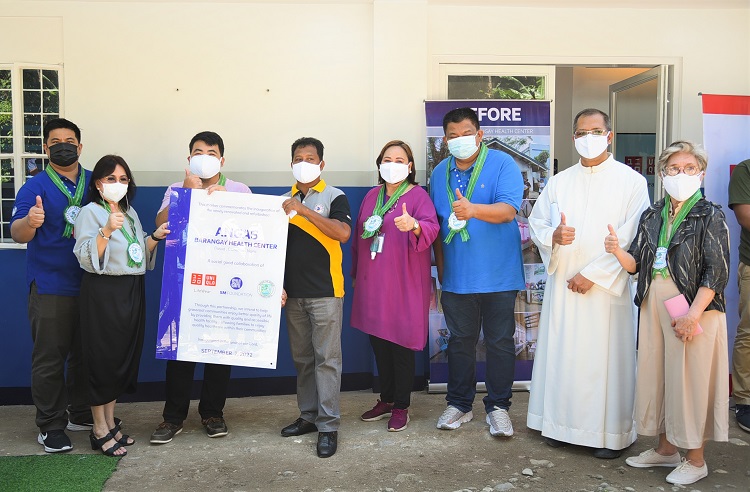 SM Foundation and UNIQLO Philippines officials and representatives formally turned over the newly upgraded barangay health centers to the local government units in the Bicol Region.
Power of collective efforts
Angeles further shared that SMFI believes that working alone as a single entity yields lesser benefits than when working together as a team: "There is much more that needs to be done, but with partners like UNIQLO, we at SM Foundation are confident that we will be able to attain our social good goals sooner rather than later. Thank you, UNIQLO, for spreading social good with us!"
SMFI and UNIQLO are set to turnover other upgraded health centers across the country in the coming months under this social good collaboration. It can be recalled that last year, SMFI and UNIQLO also partnered to renovate seven community health centers which are all now being utilized for basic medical needs and emergency responses.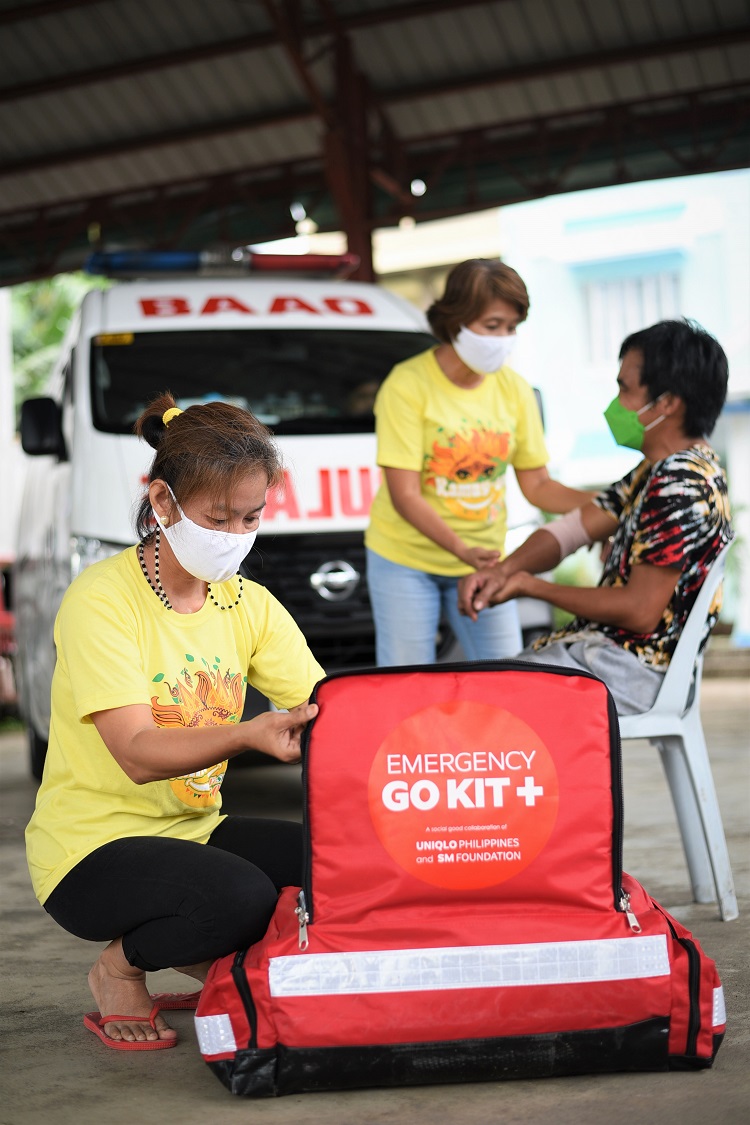 SMFI and UNIQLO launched the Emergency GO Kit+ containing essential medical supplies.
SMFI, through its Health and Medical Programs, upgrades public health centers in its host communities, complemented by its medical caravans across the country. To date, it has renovated more than 170 health and wellness centers and served almost 1.2 million patients during its medical missions.