SM Foundation opens opportunities for KSK farmers
According to the World Economic Forum, by 2050 the global demand for food will be 60% greater than today. With this projection, the agricultural sector needs to increase the production of safe and quality food, while preserving the natural resources that agricultural productivity depends upon.
This is the reason why SM Foundation (SMFI) is committed to providing a holistic approach in enabling farmers under the Kabalikat Sa Kabuhayan on Sustainable Agriculture. This program stems in the organization's belief that food security can be achieved by helping the grassroot communities achieve a competitive and viable agricultural enterprise, which in turn greatly contributes to the maintenance of a thriving rural economy.
Under the social good program, the farmers are provided with training on modern farming technologies that would help them produce and sustain bountiful harvests. The participants are also given KSK Agri Starter Kits which include vegetable seeds and other farm implements—enough to cultivate a 100 sqm. land space for their agri-plot assignments.
In addition to the agri-technology training, farmer-graduates are also provided with market linkages to help in boosting their social enterprises which in turn provide economic opportunities in their respective areas. Just recently, they participated at the SM KSK Trade Fair, a two-day monthly sales exhibit initiated by the SMFI and SM Supermalls.
Through this initiative, the KSK participants are given a chance to experience institutional selling by providing them with an avenue to sell their produce - which were planted and harvested using their agri starter kits, to the mall goers. These produce, composed of vegetables and fruits are cultivated in their backyards or small farm lots. Proceeds from the sale are used by the participants for their next cropping and to sustain their household expenses.
The recent KSK Trade Fairs were held at SM City Baguio, SM City Cabanatuan, SM Center Dagupan, SM City Pampanga, SM Nueva Ecija, SM Olongapo Central and SM City Iloilo.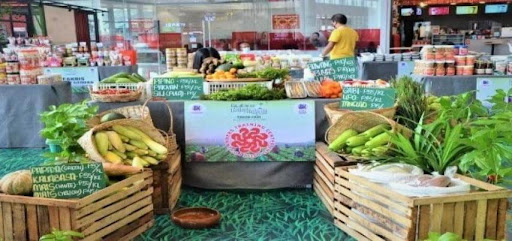 KSK Trade Fair in SM City Olongapo Central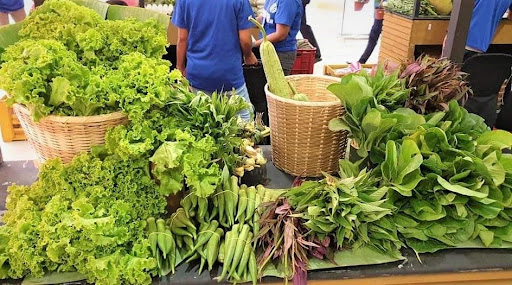 Some of the fresh produce sold by local farmers during the KSK Trade Fair in SM City Iloilo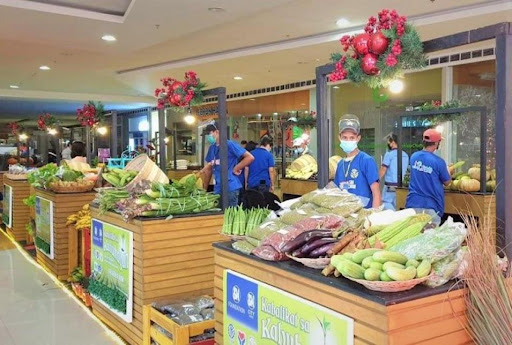 KSK Trade Fair in SM City Iloilo
"As a farmer, I am grateful for this opportunity!  I consider this experience as an additional knowledge for improving my agri-enterprise. This opportunity gave me a chance to assess and plan the marketing of my small agribusiness," KSK Batch 217 graduate Emily Santos of Sta. Ana, Pampanga said.
"We are overwhelmed by the support of the shoppers and particularly SM Employees and Mall Affiliates. Our farmer-trainees are happy and proud with the opportunity since it's their first time to sell at SM City Iloilo. We are now on the road to making some difference in their lives," said Elna Romero, owner of Center for Agri-skills and livelihood, Inc.
KSK farmer-participants from Batch 225 of Iloilo said: "We are very honored to be part of this activity, it was successful in terms of determining the quality of our products for sale and the basic knowledge of how to sell these products - which is essential in running a community based enterprise. Thank you so much to SM Foundation and to our partners for showing us the basics of marketing and selling."
The said trade fair is in partnership with the Department of Agriculture (DA), Technical Education and Skills Development Authority (TESDA), Department of Social Welfare and Development (DSWD) and Department of Trade and Industry (DTI).  In addition to the KSK participants, small and medium-sized enterprises (SMEs) affected by the pandemic were also invited to the trade fair to help them bounce back. Furthermore, the event series also served as a venue for partner government agencies to inform the public about their program thrust and services.
Spreading Social Good with The Good Guys!
It can be recalled that, during the height of the pandemic, SM Foundation collaborated with The Good Guys Market. The partnership, which was launched on April 21, 2020, sought to provide safe and fresh farm produce to SMDC homeowners, and at the same time, enable the social enterprises of small farmers. Majority of the agri-produce that were featured for this agri-market program came from the community-based farms of KSK farmers in Pampanga.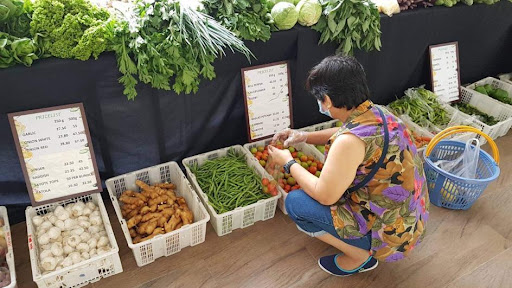 SMDC Good Guys Market
In 2020, the sustainable agriculture program was conducted in eight provinces, covering more than 30 sites in Benguet, Pangasinan, Tarlac, Pampanga, Bataan, Nueva Ecija, Iloilo and Davao. With SMFI's strong partnership with TESDA, the program was able to produce almost 1,300 TESDA National Certificate passers in Agricultural Crops Production NC III and Organic Agriculture Production NC II.