SM Foundation extends support to students of The Sisters of Mary Schools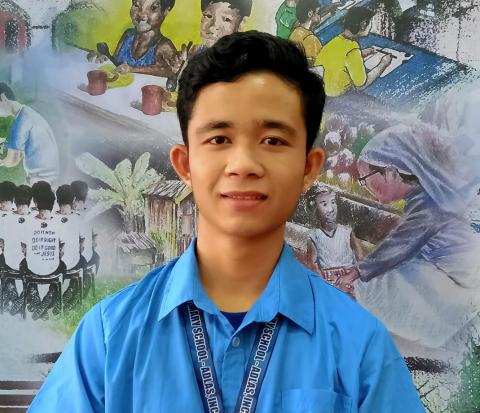 SM scholar graduate Axl Rose Villanueva
In line with its commitment to help deserving students get access to quality education, SM Foundation provides scholarship opportunities for the students of The Sisters of Mary Schools in Cebu and Cavite.
Composed of four campuses, the Sisters of Mary Schools (Girlstown and Boystown) offer basic secondary and technical-vocational curriculum to students who came from economically challenged families. The schools receive scholarship funding from its benefactors, including SM Foundation, through its Fr. Al's Children Foundation. Other benefactors include the Providential Foundation, LRP Foundation, ANCOP, GT Foundation, and Artesin, an Electronics company.
Even though the school is run by a Catholic congregation, the Sisters of Mary Banneux also accept non-Catholic applicants if they qualify based on their admission requirements.
In 2016, 20 students were supported by SM at the Girlstown in Biga campus. From that time on, the number of SM scholars in the four campuses continued to increase. To date, SM has supported 1,150 scholars in Boystown; and 2,746 in Girlstown.
As for most of the SM scholar graduates at The Sisters of Mary Schools, their learning doesn't stop with them getting their National Certificates on various tech-voc skills. Despite being highly employable in the tech-voc field, they still pursue higher education. Meet some of the scholar graduates:
Axl Rose A. Villanueva passed Automotive Servicing NC I, Technical Drafting NC II, Electrical Installation and Maintenance NC II and Mechatronics Servicing. Axl Rose and his four siblings are currently living with their aunt after their father died and her mother remarried.
​SM scholar graduate Joanne Salazar
Joanne D. Salazar has Technical Drafting NCII, Call Center Services, and Computer Programming certificates. Joanne's father died in 2016. Since then, her mother provides for her and her four siblings by being a vendor in their hometown.
SM scholar graduate Alexis Kyle Tagle
Alexis Kyle P. Tagle has Bread and Pastry Production NC II, Bookkeeping NC III, Mechatronics Servicing NC II, Computer System Servicing NC II, and a certificate in Contact Center Services Level II. Alexis' mother is a vendor while her father is a safety officer, who sidelines as a deliveryman and driver.
During the graduation ceremonies of Sisters of Mary Schools
Axl Rose, Joanne, and Alexis plan to pursue further studies while working as student teachers in their alma mater thus saving for their college education.
The Sisters of Mary School – Minglanilla Campus
All three encourage future students to dream and work for their dreams to become a reality. "You may pause along the way for a while but never stop working for your dreams," Alexis said. "Be always grateful. Keep your feet on the ground and never forget the people who paved the way for your success. I remember them with much fondness for all their sincere care and support which has brought out the best in me."