SM Foundation extends aid to Paeng victims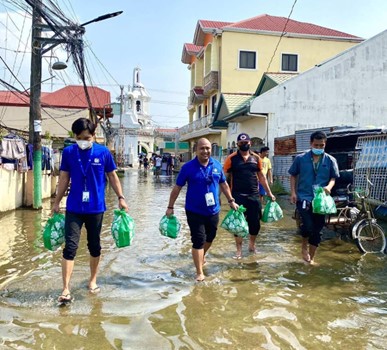 SM Foundation volunteers bring Kalinga Packs in typhoon-hit Masantol, Pampanga.
The Filipino community was set to solemnly celebrate the Undas when Severe Tropical Storm Nalgae, locally called Severe Tropical Storm Paeng, hammered the Philippines and caused widespread damage.
According to the Philippines' disaster agency, over two million people were affected by widespread flooding and landslides triggered by the heavy rains. It left thousands of houses damaged and many still in evacuation centers.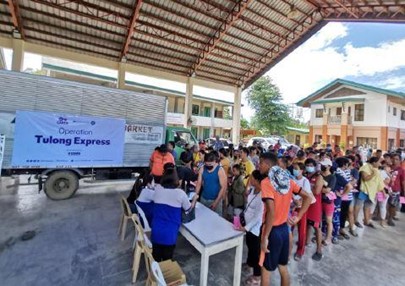 Victims of Typhoon Paeng in Brgy. Ayala, Zamboanga City line up as they get relief goods from SM Foundation Inc. (SMFI).
To respond to the needs of the typhoon victims, SM Foundation (SMFI) activated its Operation Tulong Express (OPTE) program and distributed relief goods or Kalinga packs to more than 8,800 affected individuals in over 40 hard-hit communities and barangays in Zamboanga City, Cagayan Valley, Isabela, Nueva Ecija, Pampanga, Cavite, Rizal, Laguna, Batangas, Camarines Sur, and Camarines Norte.
This recent OPTE run was led by SM employee-volunteers from SM Supermalls nationwide.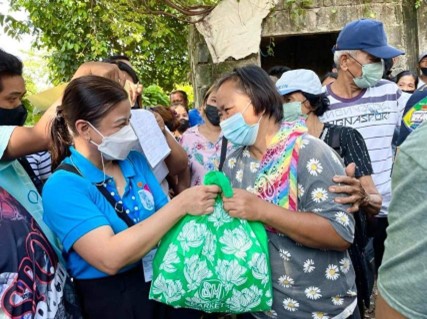 A resident of Tuguegarao City, which was flooded due to Typhoon Paeng, shares a warm smile after receiving a Kalinga Pack through SMFI's Operation Tulong Express (OPTE).
When disaster strikes, SM Foundation Inc (SMFI), together with SM Supermalls and SM Markets are committed in providing immediate relief to those affected by calamities through its Operation Tulong Express (OPTE). Since 2014, the program has distributed over 700,000 Kalinga Packs (relief packs) nationwide.
To learn more about SMFI's OPTE program and more social good programs, visit www.sm-foundation.org or follow its social media accounts (Facebook, Twitter, Instagram, and YouTube): @SMFoundationInc.