SM Foundation delivers medical supplies for Valenzuela Medical Center frontliners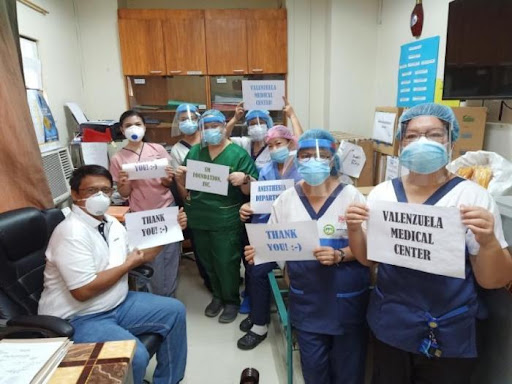 (Valenzuela Medical Center)
SM Foundation sustains its commitment and efforts in delivering critical medical supplies to hospitals across the country battling the Coronavirus Disease 2019 (COVID-19).
The donated critical medical supplies to both public and private hospitals—include personal protective equipment (PPEs), N95 masks, surgical masks, alcohol, goggles, face shields, gloves, and ventilators, among others.
Frontliners at Valenzuela Medical Center (VMC), through Anesthesiologist Dr. Christian Cruz Camaing, said that there are supplies of PPEs coming but the number to sustain their need is very thin. "We need all the help and donation we can get in order to protect our frontliners. These donations from SM greatly help us in battling COVID-19," Dr. Camaing highlighted.
"We were very delighted and thankful because every PPE that you donated means protecting the lives of my fellow frontliners who are there trying to save the lives of others," Dr. Camaing further added.
The VMC is one of the COVID-19 social good partners of SM. It has been catering to cases of COVID-19 since the start of the enhanced community quarantine (ECQ).
Aside from its donation of medical supplies, SM Foundation also distributed packed meals, cakes, bread, and other tasty products from Goldilocks—for our frontliners such as health service workers, and the members of the Armed Forces of the Philippines and Philippine National Police who man the checkpoints.
SMFI, in partnership with Uniqlo Philippines, also reached out to the families in grassroot communities affected by the ECQ by providing them with kalinga (food) packs through the Operation Tulong Express program.
SM Foundation is the social good arm of the SM Group of companies. Its social mission is to simply do its share in providing access to quality education, healthcare, sustainable agriculture, social inclusion and relief during crisis. For more info about SM Foundation, visit www.sm-foundation.org, or follow its social media accounts on Facebook, Twitter, and Instagram (@SMFoundationInc).