SM employees volunteer to help SM Foundation KSK farmers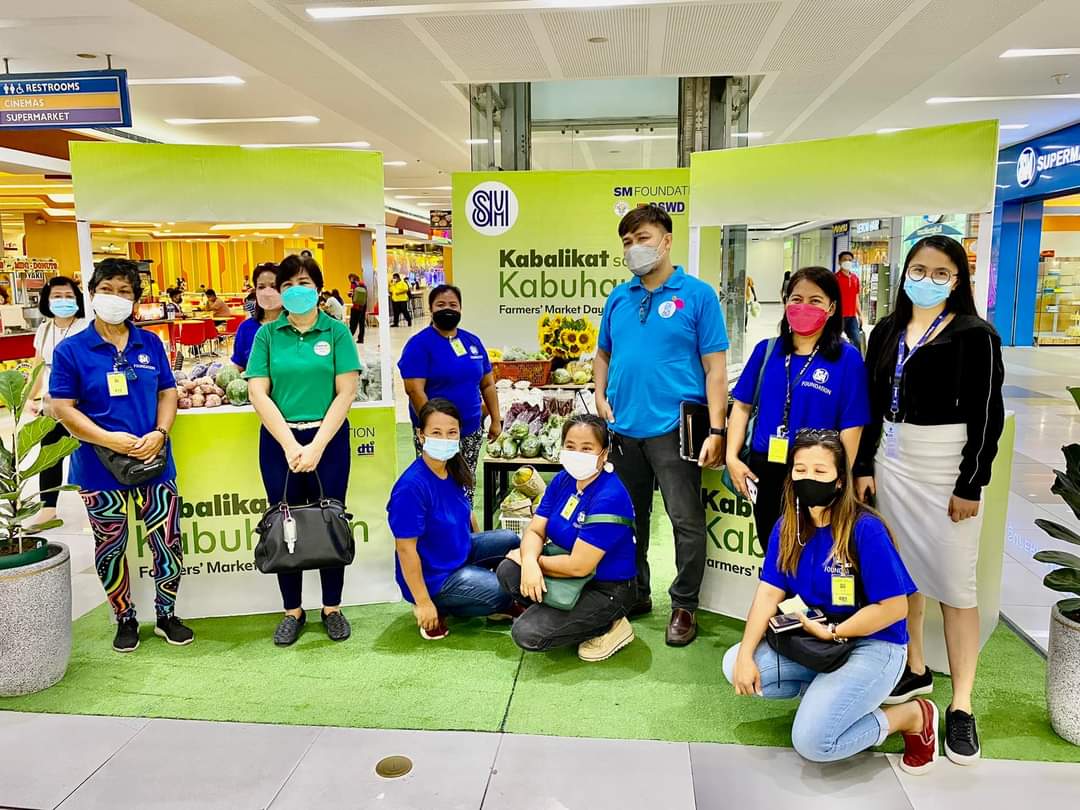 SM City Tarlac PR Officer Shiela Solis Mall Manager Darrel Ramos joins KSK Farmers before the KSK Farmer's Day opens.
People helping people.
This philosophy of the SM group continues to live on and is evident at the Kabalikat sa Kabuhayan (KSK) Farmer's Market Day in SM Malls throughout the country.
In partnership with SM Supermalls, Department of Agriculture (DA), Department of Trade and Industry (DTI), Department of Social Welfare and Development (DSWD), Technical Education and Skills Development Authority (TESDA), SM Foundation, Inc. (SMFI) aims to ensure the sustainability of the social and entrepreneurial development of KSK graduates through the KSK Farmers' Market Day.
To strengthen this, they were given institutional selling experience as they offered homegrown vegetables and fruits to their customers in designated pop-up booths at SM malls. Employees of the respective malls, meanwhile, went the extra mile to assist the farmers.
Going the extra mile
For SM City Mindpro Public Relations Officer Arnel Manahan, the experience goes beyond lending a helping hand: "No money can replace the smiles on their faces when they were given the opportunity to sell their produce for free at SM."
Manahan also coordinated with the farmers and the Mall Operations Team to hold the activity successfully. He also ensured that the public was informed about the activity through media partners and posting on the social media pages of SM City Mindoro.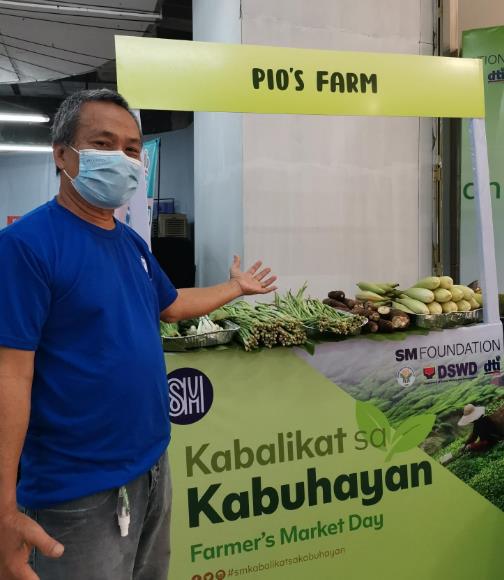 2017 KSK Farmer graduate Pio Kapistrano proudly displays his harvests at the Farmer's Market Day of  SM City Mindoro.
What moved him was the volunteerism and camaraderie among farmers when it became difficult for others to transport their produce from their farms, which were about 20-30 minutes away from the mall.
"During the fifth and sixth months of selling, Mang Pio, a farmer, was generous enough to share his vehicle, a kuliglig, with the other group selling, Tolosa Farmers, and transported their produce with his harvested vegetables to bring to the mall," Manahan said.
"Lending their vehicle for free to the other group of farmers shows a great character. Despite the distance and weather, they didn't miss a day at the Farmers' Market Day at SM. My son was always happy to see Mang Pio and Nang Myrna when we bought them," he added.
Lending a helping hand
Similar to Manahan, Shiela Mae Macaraeg-Solis, SM City Tarlac Public Relations Officer, has many fond moments with SM Foundation, especially with the KSK Farmers' Training Program.
According to Solis, SM City Tarlac always supports the SM Foundation projects by providing the logistics needed to make the project a reality. "Our mall manager, Engr. Darrel Ramos, would say that we will extend assistance to KSK projects however and whenever we can," she said.
This kind of mindset and support led SM City Tarlac to be one of the first malls in the country to successfully launch SM Farmer's Market Day.
Solis and her fellow SM employee-volunteers helped with the printing of collaterals, production and/or refurbishment of materials, publicity and marketing, coordination with local government units and other government agencies at the local level, space and power provision, and weekly preparation of permits for ingress and egress, and other tasks to ensure that KSK farmers have a smooth and productive Farmer's Market Day.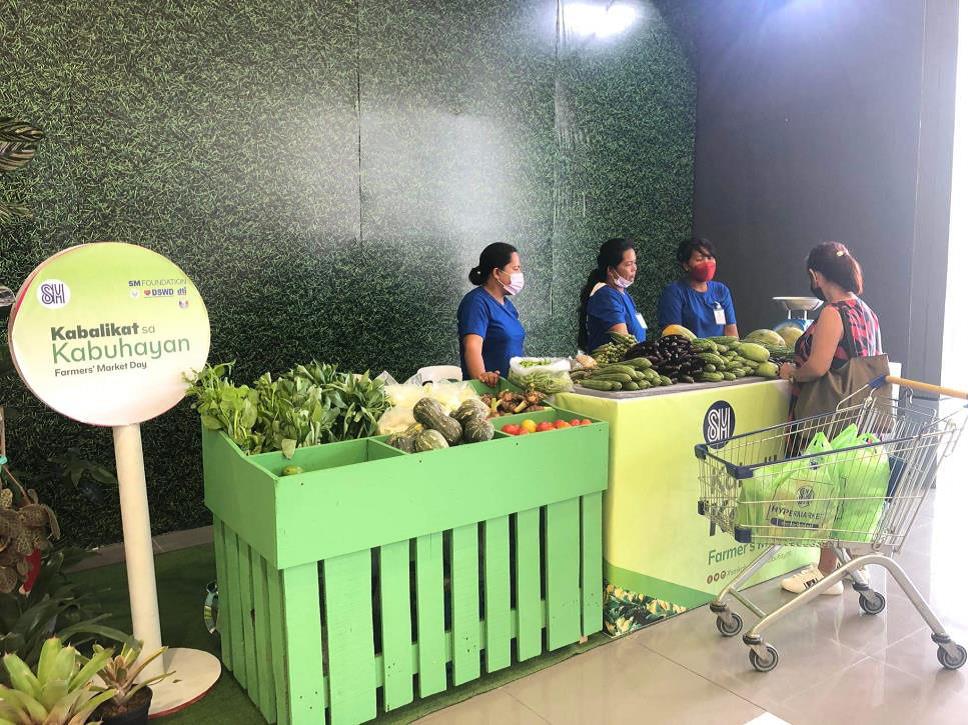 Customers buy fresh produce from KSK Farmers in SM City Tuguegarao Downtown.
Their efforts are even more worthwhile as they meet KSK farmers like Emma Tolentino. Tolentino is the owner of Eco Naturale Training Site: "It's her passion, consistency, and genuineness that makes her a woman of inspiration. Aside from helping her fellow KSK graduates, she has other noble projects. She would partner with government agencies and other organizations to provide free trainings to her fellow mushroom and organic vegetable growers."
Solis is proud to be part of SMFI and SM group in helping KSK farmer graduates become entrepreneurs.
Much like Solis, SM Center Tuguegarao Downtown Building Administration Officer Ferick Encartado Jacob was moved as he saw the determination of KSK farmers to push through with the initiative. To ensure the success of the Farmer's Market Day in the mall, Jacob processed the participant's work permits, helped ingress their produce, and set up the kiosk every Friday.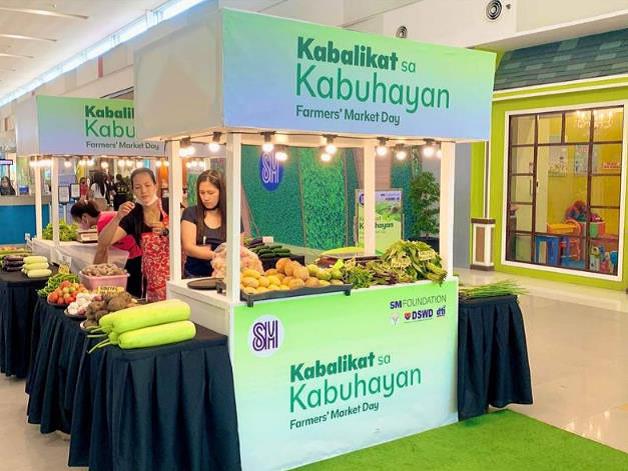 KSK Farmers prepare their products at SM City Baliwag's Farmer's Market Day.
Also eager to volunteer for the farmers is SM City Baliwag Building Administration Officer. Aside from ensuring that he is there to support them every market day, he attended to deliveries and requests for additional tables to ensure that products are well displayed until the initiative's run in December 2022.
Fellow SM employee-volunteer is SM City Iloilo Assistant Mall Manager Darrel John Defensor. He was among those who helped farmers in their community secure permits. Utilizing social media, he would visit farmers' displays to take photos and post them to SM employees and affiliate group chats to encourage other employees to purchase the products.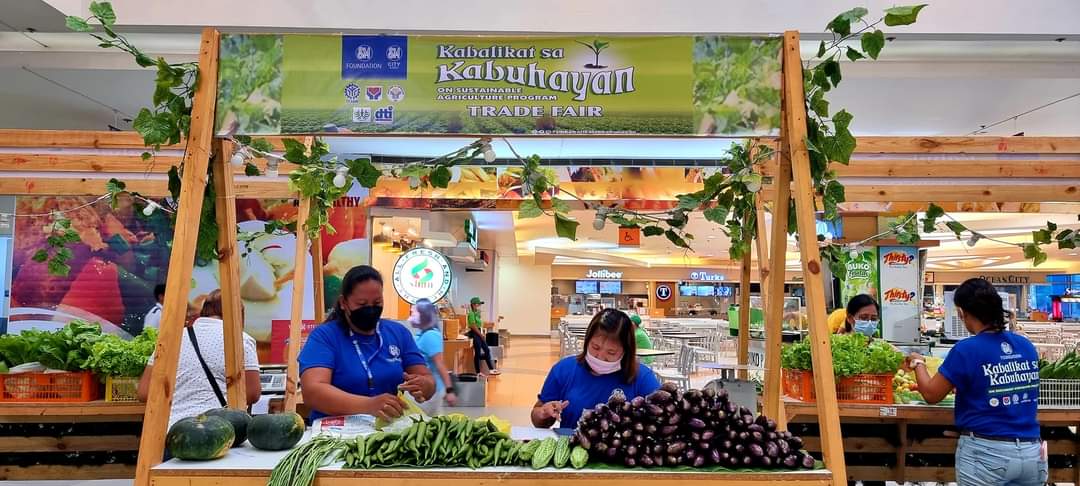 KSK Farmers prepare their products at SM City Iloilo
"My personal goal is to help them liquidate all their fresh produce before the day ends, and I am happy to note that our SM family is very supportive of our farmers. We teach them how to properly display their products and to improve their packaging. In return, they give their expert opinion on how to grow certain plants and make them more sustainable," he said.