SM employee-volunteers spread Christmas cheers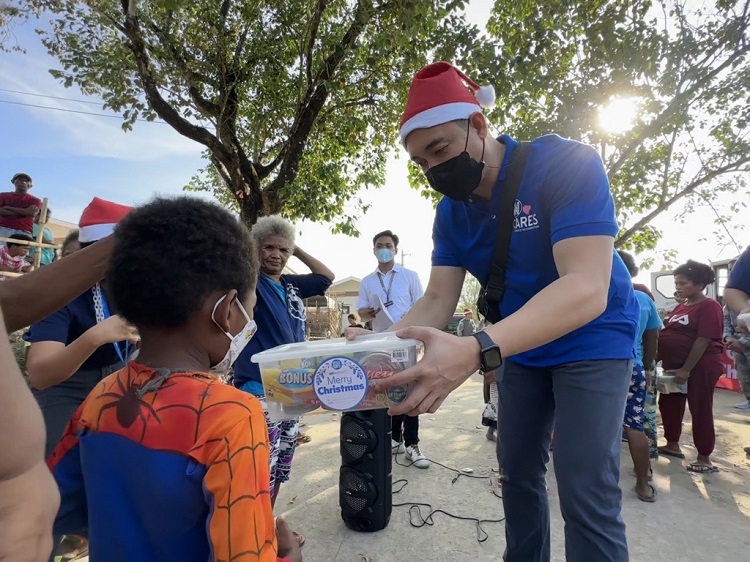 SM employee-volunteers from SM Center Lemery hand a food pack to a child from Sitio Annex, Barangay District 4.
One great thing about the holidays is that gifts come from the heart–no matter their shape, size, or form. One can give tiny trinkets holding special meanings. Others can go big and gift things where new memories would be created. Alongside these, many share the special gift of time and effort. They volunteer their skills, talents, and time to spread Christmas cheers, especially in communities that need it the most.
Amidst the hustle and bustle of the season, SM employees did just this. They went out of their way to ignite the spirit of volunteerism
Spreading social good, spreading Christmas cheers
To make this truly the happiest time of the year, SM Group rolled out Christmas Cheers, a simultaneous gift-giving activity through SM Foundation, Inc. (SMFI). The initiative was successfully carried out with SM Supermalls employees, who eagerly lent a helping hand.
Through the collaboration of SM supermalls employee-volunteers and SMFI, the SM group gave food packs to more than 23,700 families from various communities—from children and persons with disabilities, elderlies, typhoon victims, tricycle and kalesa drivers to street sweepers, health workers, Indigenous Peoples from remote areas, and families in low-income households.
VolunteeriSM
One of the many who heeded the call of volunteerism was Karla De Leon, SM City Manila's Assistant Mall Manager.
"The past two years have been very hard and difficult for everyone–that a small glimpse of hope is already enough to keep the ones still fighting, continue to fight," she opened. "This activity connects us to our communities amidst our business and workload in the mall. I volunteered to be able to feel and experience the true spirit of Christmas while being able to represent my organization."
With zeal, she acted as the coordinator of the activity, pulling together everyone willing to join and arranging everything needed to make the gift-giving a moment to remember. She became the medium—from information dissemination to embodiment of how the Christmas Cheers was envisioned to be.
"I think another valuable role I played is that I stayed true to who I am, hoping to be able to make other people happy and grateful this Christmas season," she added.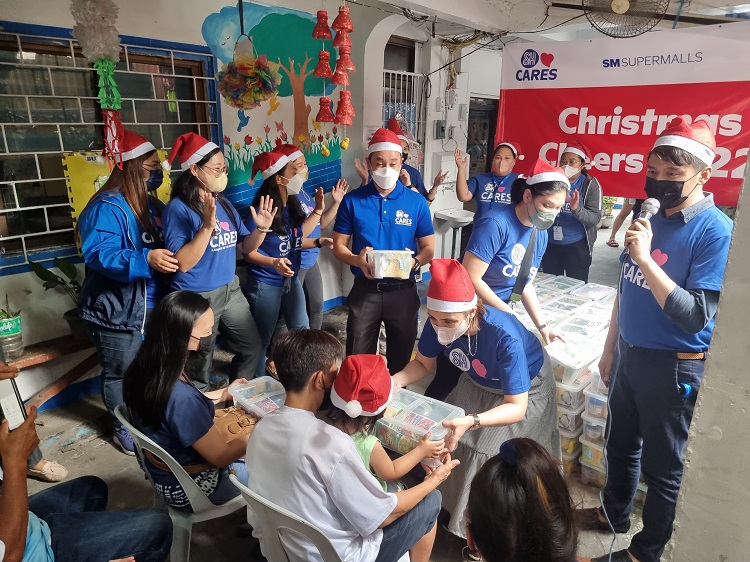 Completing the Christmas Cheers with Santa hats, SM employee-volunteers from SM City Manila cheerfully sing Christmas carols.
Through similar activities initiated by SM Group, Karla and her fellow volunteers from SM City Manila saw the importance of volunteerism and inspired them to be part of more valuable causes.
"I have always been grateful to be part of the SM group and I am proud that the organization I am in has this innate generosity, especially to the underserved communities," she said. "With this, our Christmas Cheers has been successful because of sincere volunteers who really wanted to be part of this activity. Everything came out naturally then. We sincerely wanted to make our beneficiaries happy."
For their team at SM City Manila, volunteering goes a long way. Aside from strengthening the ties of the community, but also their relationship as a team.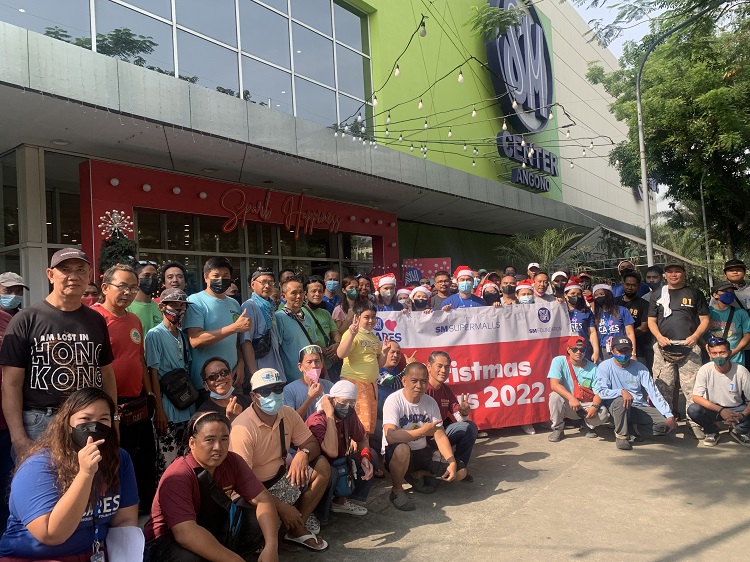 SM employee-volunteers from SM Center Angono share Christmas cheers with the tricycle drivers in the community.
"Volunteerism reflects the relationship of the group, specifically of the mall team. The bigger the action which is being volunteered, the stronger the camaraderie of the group or team involved. Volunteerism in its essence is not something that is forced nor hardly planned. It should be natural and the only way for us to practice volunteerism is to strengthen our relationship as a team and as a group–that we're not only colleagues but also friends and families," she capped.
Karla's colleague from SM City Calamba, Assistant Mall Manager Elmundo Olazo also volunteered to bring cheers to Brgy. Uno and Brgy. Real by communicating with community leaders and organizing logistics and transportation to ensure safety during the event.
Some members of their host community are informal settlers, some living along rails. And so for Elmundo, he would take every chance to bring hope and serve the underserved.
"Seeing their faces and smiles drowns my heart. Hearing them say 'Thank you, SM!' makes me prouder to be part of SM Supermalls. So, I always join volunteer activities to be able to help others, especially the ones who are in need, even if it goes beyond the responsibilities that my position dictates," Olazo shared why he continues to volunteer in SMFI's initiatives. 
Embedding volunteerism in his way of life, he is eager to encourage more people–be it her coworkers, friends or family–to stand and join in spreading social good.
A timeless gift
SM employees do not stop their tireless service and volunteerism after the season of giving.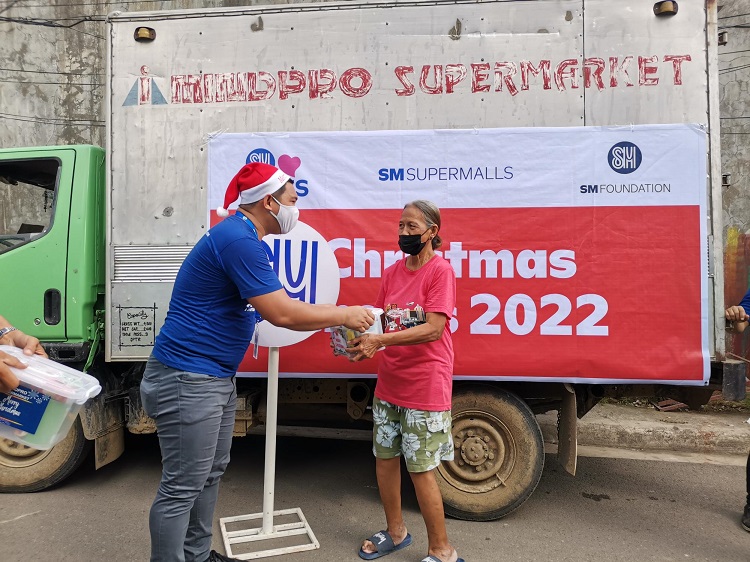 An SM Mindoro employee-volunteer hands a food pack to a beneficiary in their host community.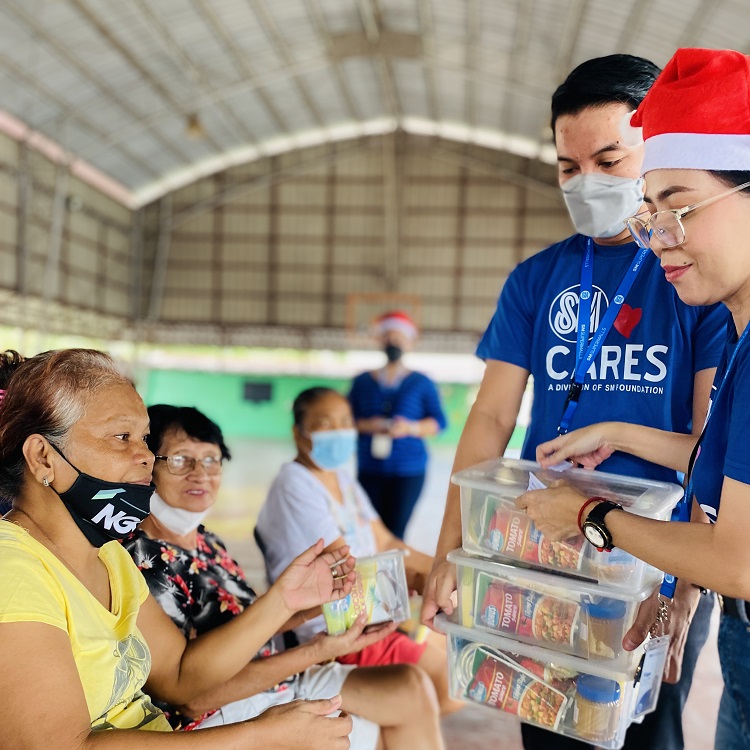 SM employee-volunteers from SM City Trece Martires share their time and skill as they join the gift-giving initiative of SM Foundation.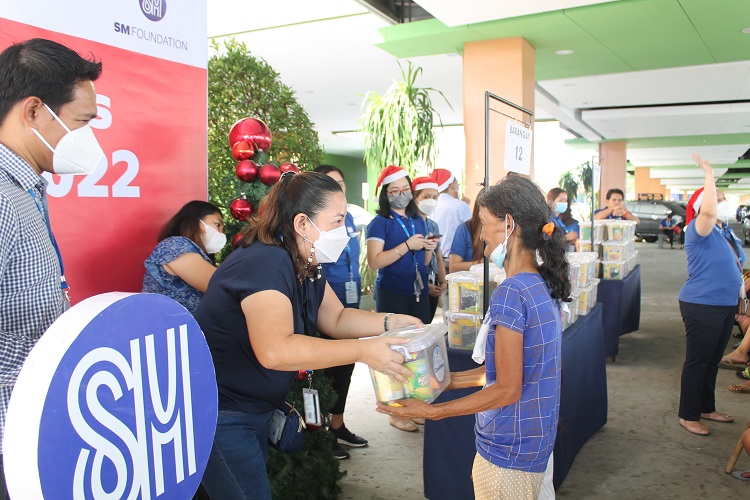 An SM employee-volunteer from SM City Bacolod offers a warm smile while sharing a food pack.
Karla and Elmundo are just two of the many other employees carrying the SM culture and philosophy of People Helping People. Through SMFI's various initiatives, they found passion and purpose in volunteerism.
SM, through SMFI, paves ways for their employees to help the country rise above crises. They take part in beautifying and painting schools. They lend a helping hand during typhoons, flooding, fire, and other disasters. They go beyond the realms of volunteerism by establishing in their communities a culture of spreading social good