SM completes seven emergency quarantine facilities in Metro Manila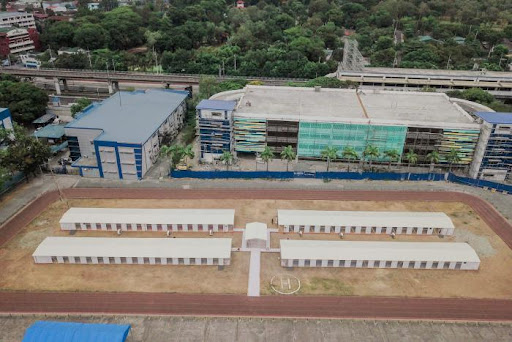 As a swift response to the need for more appropriate accommodations to house and treat patients affected by the Coronavirus Disease 2019 (COVID-19), SM, through SM Foundation, constructed seven (7) insulated emergency quarantine facilities (EQFs) in Pasay and Quezon City.
The facilities, built by the SM Engineering Design and Development (SM EDD) and WTA Architecture and Design Studio, are located at the Air Force General Hospital – Villamor Air Base in Pasay City; and at AFP Health Service Command – V. Luna (two facilities) and Camp Crame (four facilities) in Quezon City.
President of SM EDD, Hans 'Chico' Sy Jr., shared that the SM Group sat down and talked with health authorities to identify how the company can further participate in the country's collective efforts against COVID-19.
"As the confirmed cases of coronavirus grow in the country each day, hospitals, with their medical frontliners and staff, are working tirelessly to contain the spread of COVID-19. The construction of these quarantine facilities with the needed amenities to provide proper care to COVID-19 patients is SM's meaningful contribution—aside from the medical supplies donation—to fight COVID-19," Sy stated.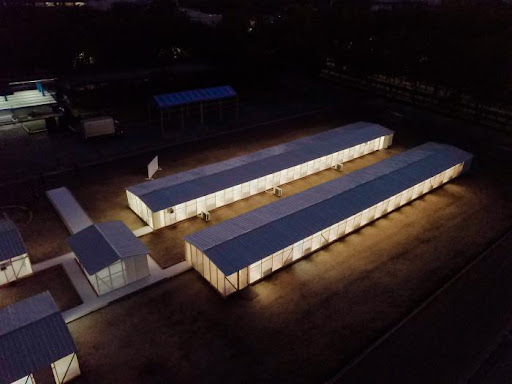 The facilities were completed within a span of around six to ten days and will feature a total of 156 beds, air conditioning units, ceiling fans, exhaust fans, restrooms, shower areas, and nurse lounges. The EQFs are set to accommodate COVID-19 patients who are asymptomatic or with mild symptoms.
In the Camp Crame EQFs, each bed has a built-in call system and patients will have an access to Wi-Fi connectivity.
The construction of these seven insulated EQFs cost almost Php 5 million in total.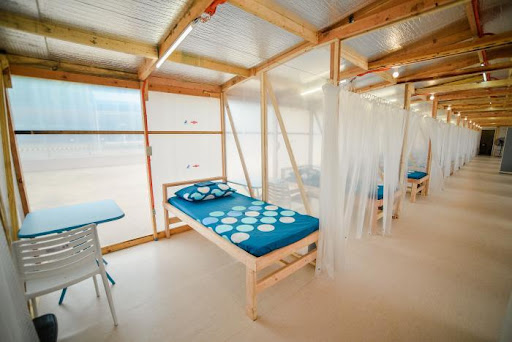 Venue for volunteeriSM
Aside from contributing to the ongoing fight against the COVID-19 pandemic, this social good initiative also served as a platform for volunteeriSM for SM employees, especially those from SM EDD.
Through this project, SM EDD employees were able to volunteer their time and expertise in constructing the insulated EQFs. This initiative has received encouragement and strong support from Chico Sy.
Project Engineer Felix Borja shared the reasons why he chose to offer his skills in this social good initiative, "I want to personally be part of the fight against COVID-19. To do good and to do what is right are the main reasons why I'm volunteering," Borja said.
Borja further expressed his hopes of inspiring others to also help, even in their own little ways, in curbing the spread of coronavirus. "Our world needs more acts of kindness," he ended.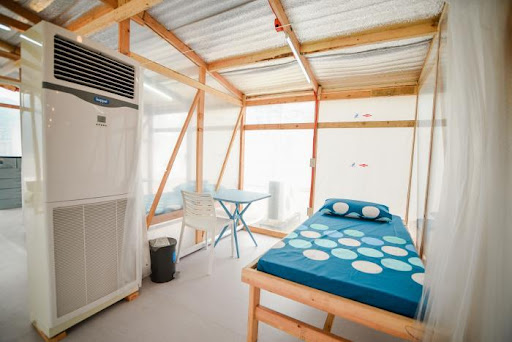 Thank you, our courageous frontliners!
Furthermore, the Leadership team of SM Foundation thanked all the frontliners for their hard work and sacrifice, "We're extremely grateful to every health care professional fighting this pandemic, caring and unselfishly trying their best to serve if not save people's lives."
"We are also equally proud of SM EDD's support and contribution at this time of need. We are also thankful to our partners, the Air Force General Hospital, AFP Health Service Command, and the WTA Architecture and Design Studio. Saving lives is critical during this pandemic. By collaborating with partners, we will be able to combat the health impacts and mitigate the most severe consequences of COVID-19. We are happy to collaborate with them [partners] together with our employees, especially in difficult times like this," the team added.
To help medical front liners and institutions to counter the coronavirus outbreak, SM, through SM Foundation donated over PHP170 million as it focused its efforts on giving timely personal protective equipment, testing kits, and intensive care unit (ICU-grade) ventilators to over 100 hospitals and medical institutions.