SM Blood Bank helps save lives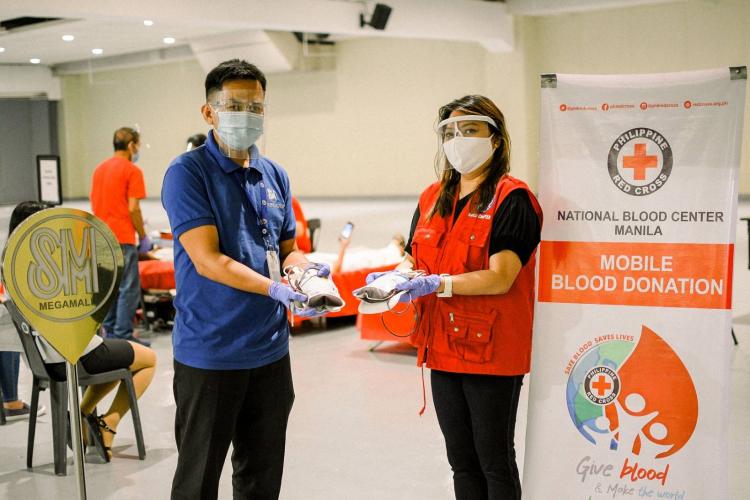 SMFI program officer Dalfhen Samson together with a Philippine Red Cross volunteer during the SM blood donation drive in SM Megamall.
Following the necessary safety protocols, SM Foundation conducts its regular blood donation drive in SM malls nationwide to help address the depleting supply of blood needed by those with urgent medical emergencies.
This social good effort is in partnership with the Department of Health (DOH), Philippine Red Cross (PRC), and Philippine Blood Center (PBC). This is in support of the Republic Act No. 7719, the National Blood Services Act of 1994 which encourages and promotes voluntary blood donation to provide sufficient supply of safe blood.
Employees from SM participate in scheduled mass blood donations spearheaded by SM Foundation in collaboration with the SM medical services. SMFI program officer Dalfhen Samson explained, "This blood donation drive is participated in by SM employees. In this partnership, SM provides the Philippine Blood Bank and Philippine Red Cross with employee donors and venue for the bloodletting activities, while both partners handle the storage of the blood bags collected."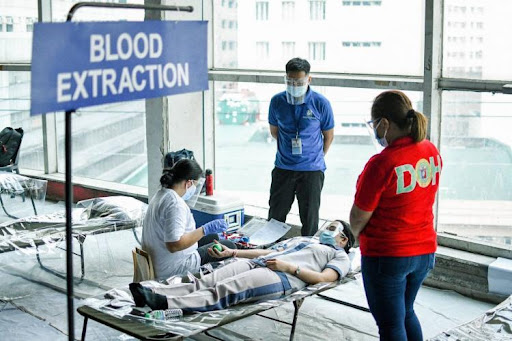 Samson, who is also a regular blood donor, shared his experience, "During my first blood donation, I was a little bit anxious since I did not know what I would feel during the blood extraction. But I still went through with it since I wanted to help those in need of blood and I know that through my contribution, I can help extend another one's life."
One blood bag donation can help save three lives as a whole blood donation can be separated into three components: red blood cells, plasma, and platelets. In 2020, a total of 1,213 bags of blood were collected by SMFI which were utilized to save more than 3,600 lives.
Under this partnership, the PRC and PBC allot a certain number of free blood for SM employees and their dependents. The PRC provides SM with 200 units of blood regardless of component, while the PBC gives 30% of the number of blood collected for free annually. All the rest go to the other patients who request for blood bags through PRC and PBC.
SM employee Nina Joy Fajardo, 45, of Quezon City would willingly participate in a bloodletting campaign if only she does not have low blood pressure. Due to the COVID pandemic and dengue season, there was no blood available in the hospital for her sick brother. She turned to SM Foundation for assistance and got two bags for free. "It was a big help for my brother who had a lymphoma and brain cancer," she disclosed.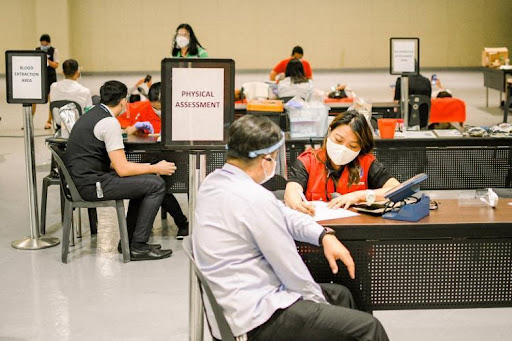 Carlos Miguel Oñate, whose mother, Myrna Oñate, 53, of Antipolo City also benefitted from the SM blood bank said he learned about the blood bank from Myrna's sister, Ms. Flor Gorospe—an SM employee. Myrna needed two bags of blood for total abdominal hysterectomy and bilateral salpingo-oophorectomy procedure.  "We got the blood bags completely free of charge," Carlos shared.
As an expression of gratitude for the help and assistance of SM Foundation, he expressed his willingness to participate in future bloodletting activities.
Regular blood donation also has benefits to the donor as it reduces the risk of heart attack and lower cholesterol levels, among others.  But for SM Foundation Executive Director for Health and Wellness Connie Angeles, it is more than the health benefits of the program to the donor: "The best benefit is enabling other people to save lives which is a great feeling since each blood drive stretches beyond blood donation. By donating blood, donors become an extension, not only just for themselves but also for others."
This year, SM Foundation has scheduled 74 bloodletting activities nationwide.
SM Foundation, through its Health and Wellness Program, upgrades public health centers in its host communities, complemented by its medical caravans across the country. To date, it has renovated more than 160 health and wellness centers and served more than 1 million patients during its medical missions.