SHARE A TOY SHARE WITH CARE TIPS
Sharing pre-loved toys not only declutter our home but also bring happiness to the less fortunate girls and boys.
This Christmas, The SM Store and Toy Kingdom's Share A Toy program allow SM shoppers to channel their inner Marie Kondo and Santa Claus at the same time. So, while we're at it, let's make the upcoming holidays truly joyous for many children by ensuring that the toys we donate are safe and fun to play with. Here are some useful tips for sharing toys with care: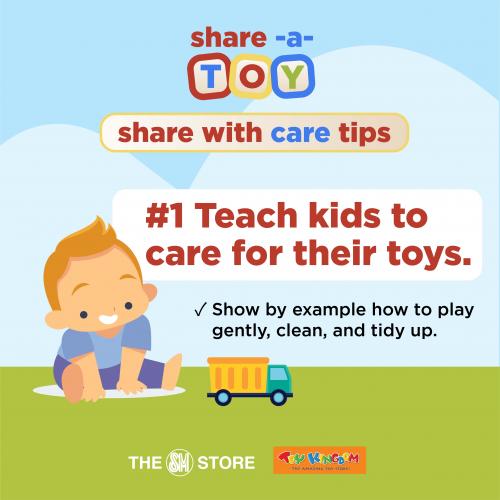 Teach kids to take good care of their toys. A gently used toy is sure to be enjoyed and loved by the next child who will own them. Show your kids how to clean and store their toys properly after play. Share stories on how their favorite toys can bring happiness to other kids once they have outgrown them.
Clean and sanitize the toys before dropping them off. Plush toys can be hand-washed or tossed into the washing machine, while surfaces of electronics or battery-run items should be wiped down. Make sure to include all creases when disinfecting hard and plastic toys.
Inspect if the toys are in good condition. For kids to truly enjoy the toys that you will donate, they should still be in good working condition, and all pieces are complete and intact.
Pack the toys properly. Avoid losing parts of the toy by packing them properly in a box or bag. You can also request a bag from the customer representatives of The SM Store and Toy Kingdom.
Make sure the toys are age-appropriate. Donations from the Share A Toy campaign will reach thousands of kids across the country ages 3 to 12 years old.
Ready to Share a Toy?Shoppers can bring and drop off pre-loved and new toys at the Share A Toy booth at any The SM Store and the Toy Kingdom branches nationwide until December 30.

For every toy donation, shoppers will receive a P100 discount coupon which can be redeemed on a minimum single-receipt purchase worth P1000.

Through the Share A Toy campaign, The SM Store, Toy Kingdom and its loyal customers join together to celebrate this joyous season of giving and hope to many children across the country.

Share A Toy purchases and donations are also valid in-store and Call To Deliver transactions. For more updates about The SM Store community programs and ways to donate, visit www.thesmstore.com and follow its social media pages @thesmstore on Facebook, Instagram, and Twitter.