Henry Sy Foundation turns over second tranche of donation for UP Manila's medical sciences building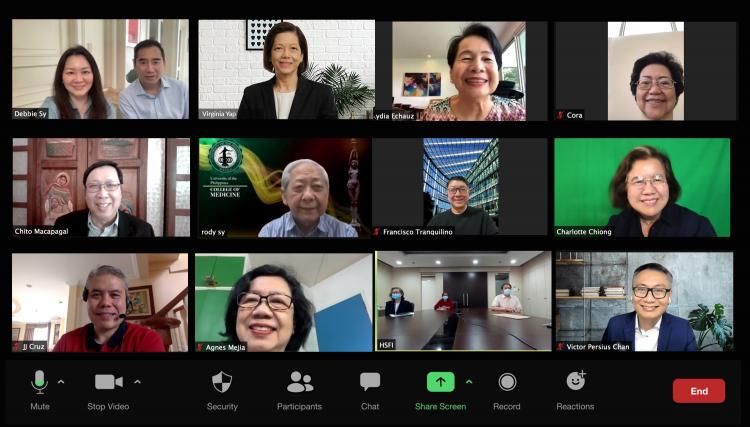 Key officials from Henry Sy Foundation (Trustees Debbie Sy and Harley Sy, Chairman and Treasurer Virginia Yap,and Executive Director Dr. Lydia Echauz, and Independent Trustee Engr. Chito Macapagal); UPMAFI (Chairman and President Dr. Rody Sy, Vice President Dr. Camilo Roa, and Secretary Dr. Francisco Tranquilino); and UP Manila (Dean Charlotte Chiong, Associate Dean Joven Cruz, and former Dean Agnes Mejia) graced the virtual turnover of the 2nd tranche of donation for the UP Manila Medical Sciences Building.
True to its commitment of supporting endeavors which advance the culture of academic excellence among Filipinos, Henry Sy Foundation turned over the 2nd tranche of its donation to the University of the Philippines Medical Alumni Foundation Inc. (UPMAFI) to support the construction of the 11-story Medical Sciences Building at the UP Manila Campus.
The said Medical Sciences Building is soon to rise within the UP Manila complex in Ermita, Manila and will have a total floor area of almost 9,900 square meters.
The teaching facility will have the following features:
Two theaters;
42 classrooms;
Three board rooms and an alumni lounge;
A special event hall and two multi-purpose halls;
Four upper floors that can accommodate new programs of the college; and
A patient safety center and two clinical simulation wings.
In addition to the grant of Henry Sy Foundation, the other donations will come from UP alumni, their families and supporters of UP Manila. The UPMAFI, through the leadership of its Chairman and President Dr. Rody Sy, has been raising funds for this project for the past years.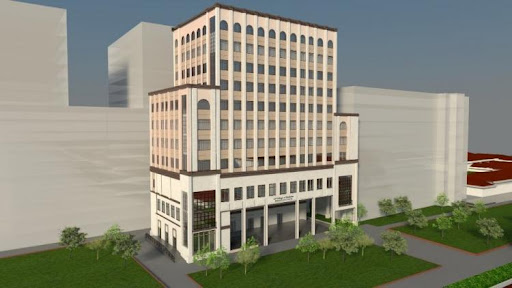 Dr. Lydia Echauz, HSFI Trustee and Executive Director, highlighted the vision of the HSFI, "Henry Sy Foundation has the vision of supporting the empowerment of Filipinos through education. Aside from providing financial assistance to students, we also partner with various education institutions for the construction of facilities and development of programs which improve the quality of education in the country."
"In 2019, the HSFI and UPMAFI signed an agreement to build a world class medical sciences building in UP Manila Campus. The HSFI donated P300 million which was given in two tranches," Dr. Echauz stated.
"We already completed 36% of total construction work as of February 5, 2021 despite the project hurdles brought upon by the pandemic. Although constructions are now allowed by the government, it is important for us to establish procedures at construction sites to fight the spread of the virus. To ensure occupational safety for this project, we conduct regular check-ups and COVID-19 testing for our workers every month as part of our health and safety measures," said Dr. Sy.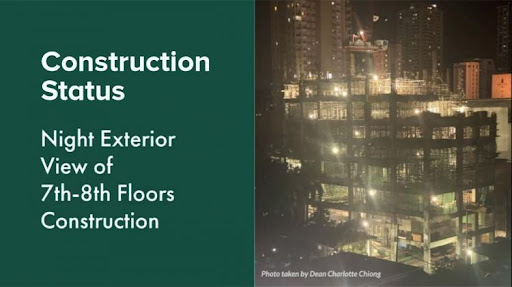 "We know that it is very difficult to execute construction projects nowadays because of the pandemic. We are very impressed with how the construction of the Medical Sciences building is being handled by UP Manila amidst these challenging times," said HSFI Trustee Engr. Chito Macapagal.
The Henry Sy Foundation Inc., a personal foundation of the SM Founder Henry Sy Sr., is a non-stock, non-profit organization that aims to empower the youth and foster the culture of achievement by giving grants to educational institutions to drive Philippine social development.
The foundation's projects are undertaken in partnership with the SM group and its foundations to support educational institutions in promoting academic excellence as a key to a brighter future for the youth.
Through the years, the HSFI was able to establish and support several academic infrastructures such as the Henry Sy Sr. Primary School Building in Xavier School, Nuvali Laguna; Henry Sy Sr. Innovation Center in Miriam College, Quezon City; NU Sports Academy in Calamba, Laguna; NU Nazareth School in Manila; UP Professional Schools in BGC, Taguig and a Henry Sy Sr. Hall each at Immaculate Conception Academy, San Juan City and at Assumption College in Makati City.
​