Greatness beyond education
SM Scholars inches closer to their dreams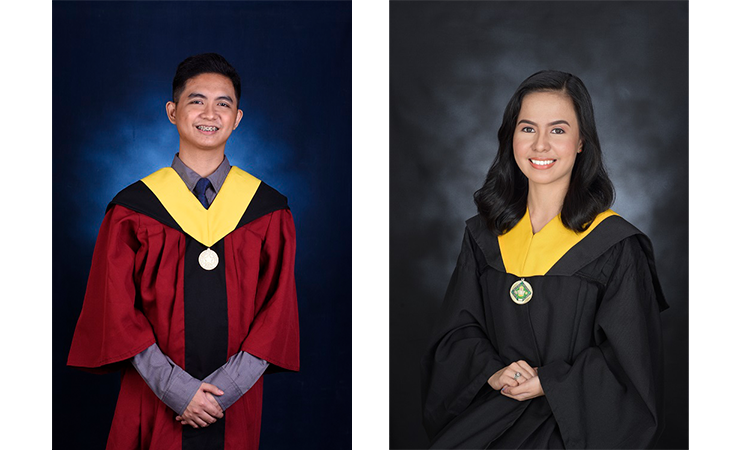 Al-Junius Bersamina (left) and Clowie Diane Castillo (right), both SM Scholars, cap their academic journeys with Latin honors.
We might have heard the saying "The best view comes after the hardest climb." many times before. But how often do we come across someone who exemplifies this?
Beyond the shambles of the pandemic, we were able to witness just this in the eyes of students. They navigated the ever-shifting modes of learning for about three years. They made their way through online learning and readjusted to face-to-face classes even before fully adjusting to the previous setup.
While learning during COVID-19 was a challenge, aspiring students from low-income households had to work doubly hard as they were traversing two journeys at once: finding the means to be brave through daily life and attaining their dream life away from poverty through education.
Al-Junius Bersamina and Clowie Diane Castillo, both SM Scholars, are among the millions of students who rose to greatness amidst the trying times and are on their way to giving back to their families and community.
Prepared for the future
Nine years ago, the head of the Bersamina household passed away due to a brain hemorrhage. Since then, the mother of Al-Junius has stood as their family's light and primary provider. Her salary as a utility cook was sufficient for their daily essentials but wasn't enough to send her children to school. But this didn't stop the family from moving forward together.
"It was difficult at first to cope, but we managed to move on and keep our spirits high. We promised ourselves to stay stronger and continue to strive, as we know that he is watching over us," Al-Junius said.
He searched for ways to put himself through college despite the difficulties. It was his mentor who encouraged him to apply for an SM Scholarship.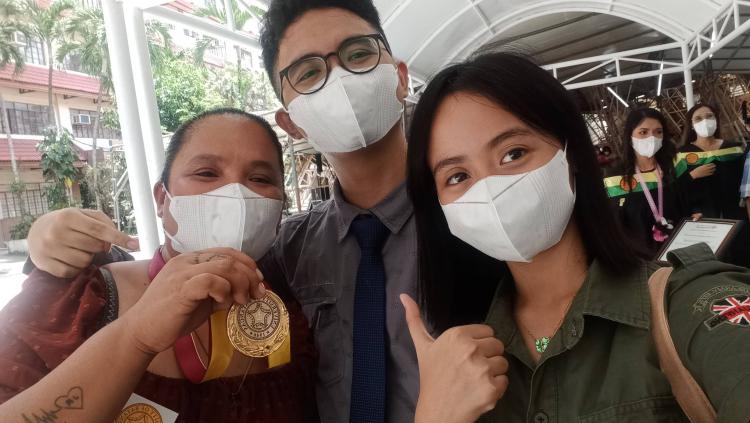 SM Scholar Bercamino (center) gives back to his mother by financing his sister's nursing school.
"After a competition in senior high school, my mentor mentioned that I should apply for an SM Scholarship. This was two days prior to the exam schedule in SM Batangas. Given the situation that we have in our family, my mom being a single parent working at a minimum wage, I undoubtedly applied. When I saw the requirements, I knew that I was eligible, given the grades that I had. I grabbed the chance and took the qualification exam," he recalled.
When the mode of learning of the SM scholar shifted to online classes, he was able to utilize the scholar allowance for their monthly internet plan. With this, he could study, write codes, create programs, and build systems online, which prepared and equipped him with the confidence to enter the IT field.
"Since I became a scholar of SM Foundation, it lessened our worries regarding finances, especially the tuition fees. The monthly allowance also helped me with my stipends in school," he shared.
Indeed, the years of hard work amidst the mixed face-to-face and online classes bore fruit. He is now working as a Software Engineer in a work-from-home environment, similar to the academic setup that shaped him.
Putting to heart the opportunities that opened up through the scholarship, he now gives back to his family by helping send her sister to nursing school and eyes to help raise a future-proof generation by sharing about computer science.
"​​With the success that I attained through the help of the SM Foundation, I am utilizing this blessing by covering her tuition fees until she graduates and becomes a registered nurse. My mother is also moved every time I tell her that I will pay the bills in our home. Seeing them happy makes me feel likewise, and I'm sure that the people behind SMFI also felt the same when they saw scholars like me very happy," he said.
"As a Software Engineer, I've always wanted to teach coding/programming to people unfamiliar with it because technology is continuously thriving in today's age. So learning this skill will help them to become future-proof," he hoped.
Determined to succeed
Bersamina's fellow SM scholar, Clowie Dianne Castillo, also belonged to a low-income family. While her father works as a barangay tanod and parking attendant on the side, it became difficult to finance their daily needs when the pandemic affected their humble street food business, the family's bread, and butter.
Like many, the SM scholar didn't know how she would finish her degree, but she was determined since her siblings were still studying, too.
"Life has been really hard. Relying solely on my father's salary as a barangay is not enough, considering that my younger brother and I were still both studying." she opened.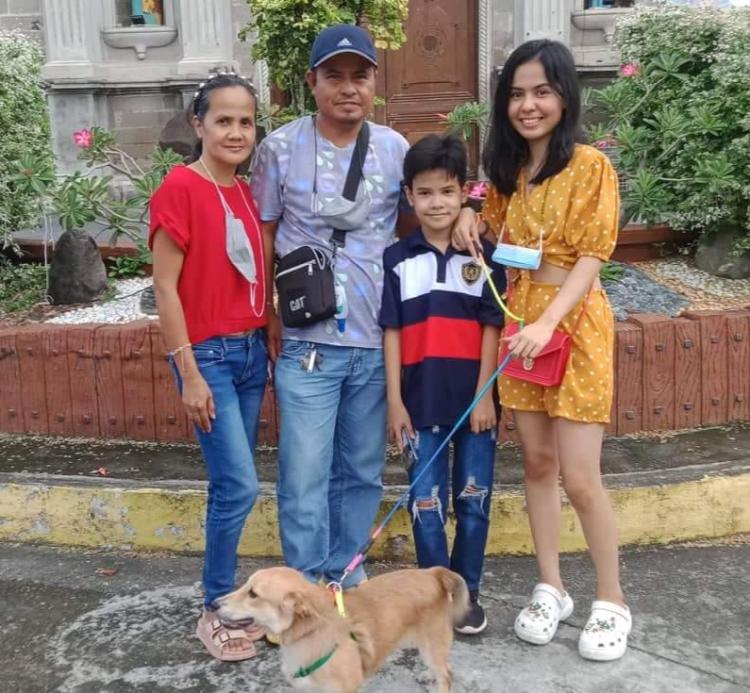 SM scholar Castillo (far left) with her family. She was determined to finish college to give her family a comfortable life they couldn't have before.
I applied for an SM scholarship because I really wanted to graduate without making my family worry about finances. I know that education will elevate the state of our life, so I made a way and took the opportunity to make my family's dream come true," she said when asked about what urged her to be an SM scholar.
With grit, Clowie was able to pursue her college degree. While the scholarship moved her inches closer to her goal of earning a diploma, it also helped lighten the financial load on her family.
"My scholarship is a life changer. Through it, our family's accumulated income was allocated to other necessities. They didn't have to worry about any of my school expenses. I didn't ask my parents for money to buy books, uniforms, and other school requirements because we had a monthly allowance. We also had the privilege to work during Christmas and summer breaks, which gave me an additional allowance," she said.
While she graduated with a Bachelor of Science in Accountancy with Latin honors (magna cum laude), her rise to greatness has just begun. She currently works at a local thrift bank in Tagaytay, utilizing her time to serve others, save up for her CPA Licensure examination, and learn.
"Learning is a continuous process. The fact that I have already graduated from college doesn't mean that learning has to stop. Graduating with honors doesn't also mean that I already know everything. But I am passionate, determined, and willing to learn. These will help me climb the ladder toward success," she said.
"Being recognized as an SM scholar is an honor to my family and me. I will take this as my inspiration as I strive to give them a bright future–live the kind of life we were unable to experience before. Beyond this, I aim to stand as an inspiration to youth who dream of becoming successful. I want them to know that their dreams don't have to be mere dreams. There are different ways of turning them into reality," she said.