Collaborating for inclusivity in healthcare
How we utilize local health centers to empower Filipinos
By Debbie P. Sy
In 2022, we saw the much-awaited light at the end of the tunnel.
The Philippines has started lifting some restrictions as the vaccine rollout continues. Along came the privilege of people to once again freely move around the community–regardless of age and comorbidity. And with this, businesses, livelihoods, and other services are returning to their pre-COVID vigor.
We were also welcomed with the news that the Philippines ranked 19th among 146 nations in the World Economic Forum's Global Gender Gap Report 2022. Looking into four key dimensions–Economic Participation and Opportunity, Educational Attainment, Health and Survival, and Political Empowerment–the report showed us that the country has the highest level of gender parity in Asia.
But the country's continuous performance in the Gender Gap Rankings didn't happen overnight. The Philippines signed the Convention on the Elimination of all Forms of Discrimination Against Women (CEDAW) on July 15, 1980, and ratified it on August 5, 1981–the first ASEAN region to do so. Since then, the country's programs and policies have been anchored on the CEDAW, tagged as the International Bill of Rights of Women.
These strides in gender and development and women's empowerment are a cause for optimism. Like ripples of social change, it calls on private sectors, such as the SM group, to supplement this feat and spread social good in our own way.
With this as our anchor, we see a clear path for collaboration with various stakeholders–a collaboration that transcends to promoting gender responsiveness and inclusivity in key dimensions where needs are to be met, particularly in health.
Putting the community's needs at the forefront of healthcare
For four decades now, SM group, through SM Foundation, Inc. (SMFI), our social good arm, has listened to the pulse of the people to uplift the communities we serve.
Before any projects or programs are implemented, we ensure that we conduct proper research and groundwork together with the operations teams of our local malls. Particularly in health and wellness, we coordinate with local government units–through our hardworking SMFI staff and leaders–to clearly understand what aid can be extended.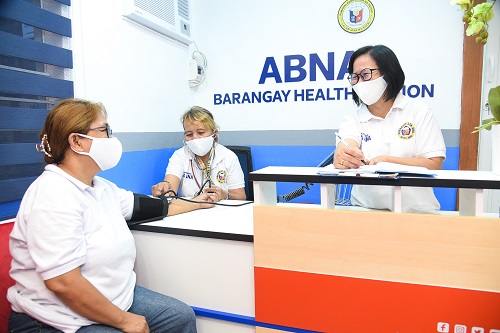 With a refreshed environment in their health facilities, frontline health workers eagerly report to duty and serve the patients in their communities.
Moving to the heart of the projects, we carefully assess the community's concerns by engaging with doctors in health centers, barangay health workers, community heads, and residents. We look into the current state of the health center, its location and susceptibility to disasters, human resource, demographics of the community they serve, and the programs they are implementing.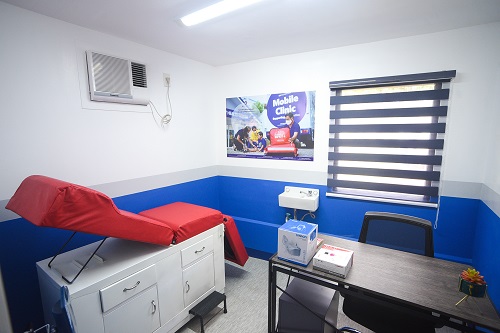 Empowering women and children, SM ensures quality maternal care are provided in the health center of our partner communities.
It is here where we learn about matters that hinder women and children from achieving their full potential: high pregnancy rates of women and early pregnancy among youth.
Staying true to our mission, we want to uplift communities by addressing their concerns with the end goal of enabling families and women to contribute to building a brighter future for the nation and live a full life.
With this, SMFI circles back to the community's true needs and harnesses the potential of health centers by increasing their functionality and reviving their core purpose– which is delivering quality health services, especially for the vulnerable.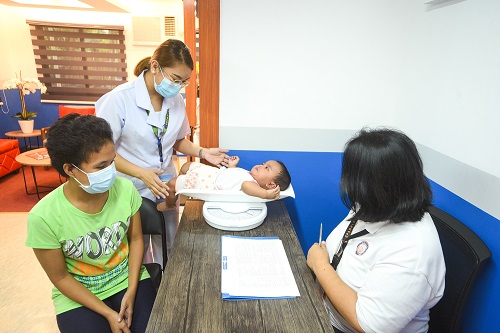 SMFI and its partners place well-thought-out medical tools and medicines tailored to the needs of the residents in its upgraded health facilities.
We go beyond upgrading the layout and structure and equipping health facilities with modern furniture and appliances. Our group places well-thought-out medical tools and medicines tailored to the needs of the residents.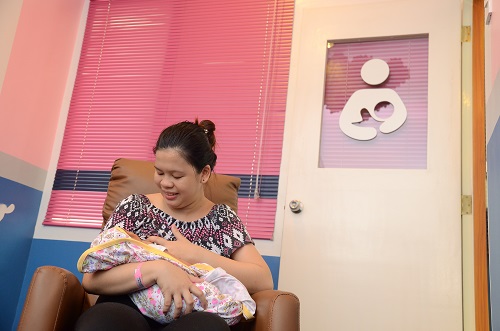 Like our malls, health facilities refurbish by SMFI have breastfeeding stations, where mothers can tend to their infant's needs.
For community-level maternal care, we equip centers with fetal doppler, comfortable beds in furnished OB rooms, and other tools to give mothers the healthcare they deserve. Like our malls, we allot space for breastfeeding stations in the health centers, where mothers can tend to their infant's needs.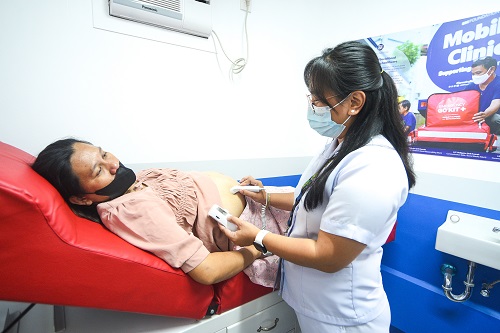 SM equips centers with fetal doppler, comfortable beds in furnished OB rooms, and other tools to give mothers the healthcare they deserve.
We also ensure that newly upgraded facilities also have mobile play cabinets. It doesn't only allow children to have a pleasant healthcare experience in a child-friendly environment. The cabinets encourage learning and development through their educational books and gender-sensitive toys.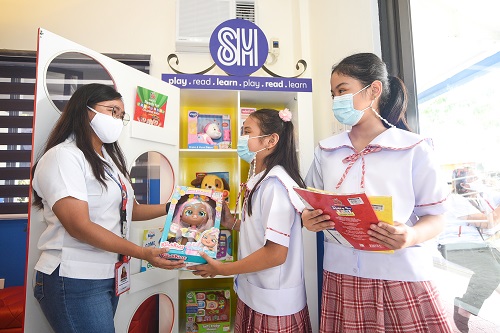 Mobile Play Cabinets allow young patients to learn and enjoy their check up in the upgraded health facilities.
Moreover, the upgraded health centers ensure that all community members become allies in promoting a healthy community and join our mission of uplifting Filipino families. There are TB-DOTS areas, free medicines from SM group and our partners, and special lounges where LGU representatives can conduct hands-on family planning sessions and other discussions on healthcare promotion.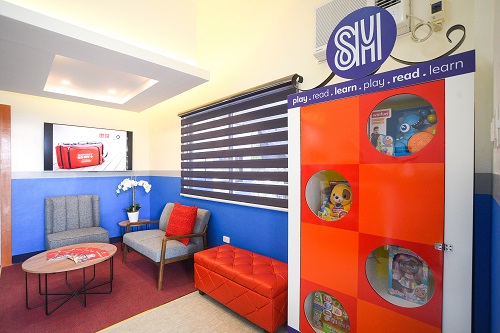 Refurbished health centers, through SMFI's Health and Wellness program, provide holistic healthcare experience to community members.
SM group's effort doesn't end post-implementation. We aim to sustain the social good we have started by consistently communicating and working hand-in-hand with health centers. Our mall's operations teams work with our SMFI team to check and evaluate the facilities to ensure that quality healthcare services are continuously provided.
To date, we have improved over 170 health and wellness centers and served over four million patients. And at each center we turnover, we see the power of spreading social good through healthcare.
We witness health workers report for duty in the facility with pride and determination. This service goes beyond the center's four walls as families, especially women and children, are at ease in getting care in their community. With improved health and care, they are empowered to do more for their families, communities, and the nation.
Debbie Sy is the Executive Director of SM Foundation Inc.