102-year-old school in Sorsogon gets new SM school building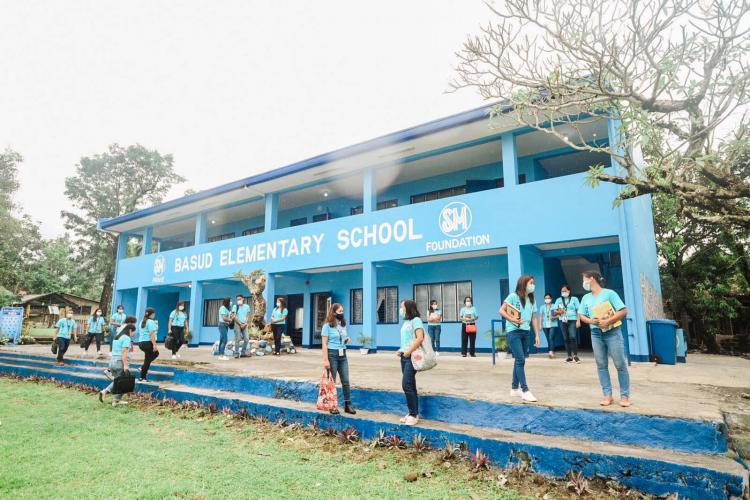 Newly turned over SM School Building at Basud Elementary School in Sorsogon City.
Living up to its commitment in providing support for its host communities in grassroots areas, SM Prime Holdings (SMPH), through SM Foundation (SMFI), turned over a fully furnished two-story, four-classroom SM school building to Basud Elementary School (BES) in Sorsogon City.
Once the face-to-face classes are permitted, the 102-year-old BES is more than ready to cater to its 570 learners from Barangay Basud and neighboring communities.
Consistent with the disaster resilient design of an SM school building, the newly turned over infrastructure has 200 armchairs with specially made chairs for left-handed students, four sets of teacher's table/chair, 16 wall fans, eight concave panoramic whiteboards, four wall clocks, and four washrooms with flush toilets and washbasins. A new persons with disability (PWD) ramp leading to a spacious PWD washroom complete with handrails, flush toilet, washbasin and a concrete tiled bench has been added for the comfort of PWDs.
The SMFI also installed a 10-faucet handwashing facility, with a 500-liter water tank, to promote proper hygiene an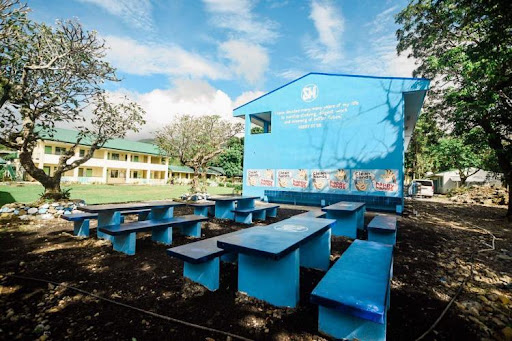 Green space which promotes environmental consciousness
d to prevent the spread of harmful viruses. Moreover, a dedicated green space (with concrete tables and benches) for learners were also provided to promote environmental consciousness.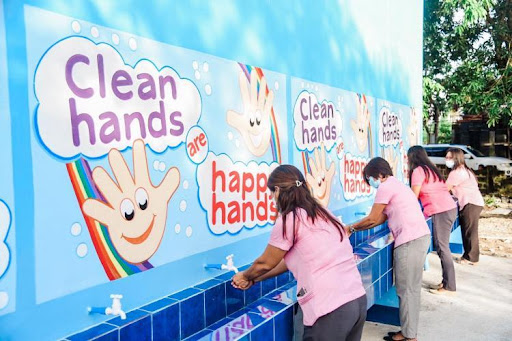 10-faucet handwashing facility
The SM School building also has a dedicated room for each of the following: a clinic, a mini library, and a guidance office.
BES school principal Joji Buelvo said, "This partnership is a great support for the Department of Education's (DepEd) vision of providing our learners with classrooms that are conducive to learning. Sulong Edukalidad kahit sa panahon ng pandemya!"
More support from partners
SM Foundation made sure to truly touch the lives of the learners and teachers in BES as it partnered with SGV & Co and SM Retail to further spread social good in the said community.
SGV & Co., through SM Foundation, provided the teachers of BES with laptops which they can use in holding their virtual classes. At this time of pandemic, these digital tools are important more than ever to ensure the delivery of quality education.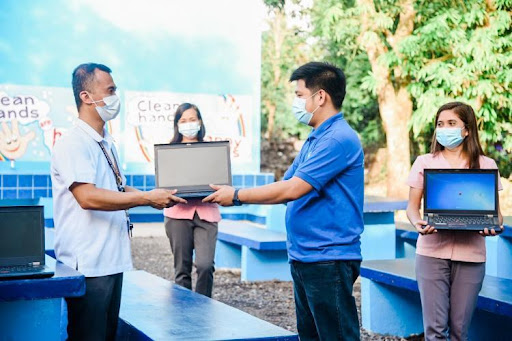 SGV & Co, through SM Foundation, donated laptops to BES teachers.
Through SM Retail, Stationery at The SM Store donated backpacks and various school supplies for all the learners. Books, on the other hand, were donated by Henry Sy Jr. for the mini library. A mental health specialist was also invited to help teachers and parents look after their well-being and cope with the challenge of the pandemic.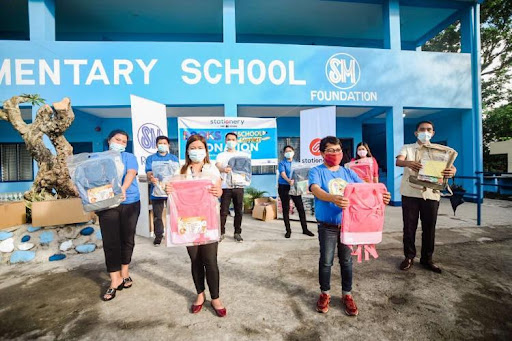 Through SM Retail, various books for the mini library and backpacks with school supplies for the learners were donated
Principal Buelvo expressed her gratitude for the donations from SM and its partners, "Thank you very much, SM and partners! Your donation will serve as a haven in nurturing the young minds of our Basud Elementary School learners to be academically-ready and well-rounded members of the community."
SM Foundation, through its School Building Program, is an active partner of DepEd's Adopt-a-School program. This social good initiative of SM Foundation aims to promote quality public education by building classrooms nationwide. To date, it has turned over more than 100 school buildings to grassroots communities nationwide