SM employees give the gift of volunteerism
CLICK HERE TO DOWNLOAD PDF VERSION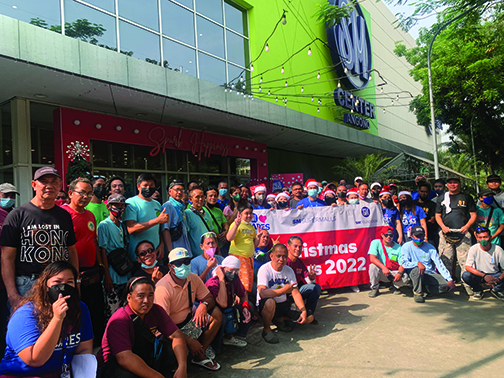 Amidst the hustle and bustle of the season, SM employees went out of their way to ignite the spirit of volunteerism. Sharing the special gift of time and effort, they volunteered their skills, talents, and time to spread Christmas cheer, especially in communities that need it the most.
SM employees give the gift of volunteerism Spreading social good, spreading Christmas cheers To make this truly the happiest time of the year, SM group rolled out Christmas Cheers, a simultaneous gift-giving activity through SM Foundation Inc. (SMFI). The initiative was successfully carried out with SM Supermalls employees, who eagerly lent a helping hand.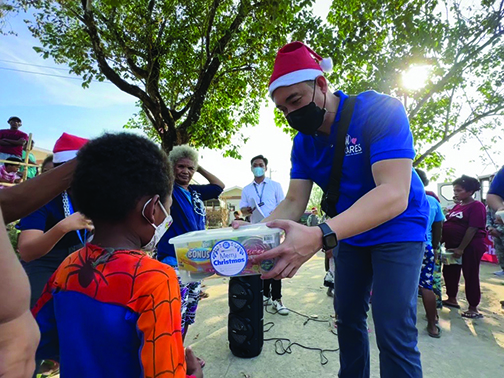 Through the collaboration of SM Supermalls employee-volunteers and SMFI, the SM group gave food packs to more than 23,700 families from various communities—from children and persons with disabilities, elderlies, typhoon victims, tricycle and kalesa drivers to street sweepers, health workers, Indigenous Peoples from remote areas, and families in low income households.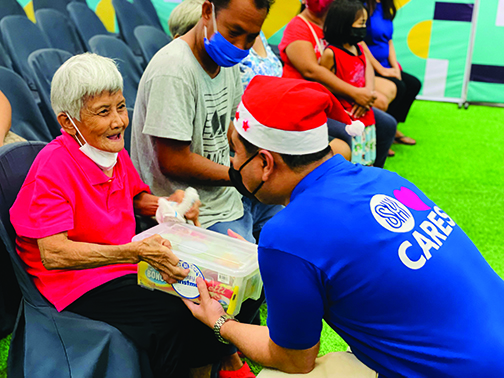 VolunteeriSM
One of the many who heeded the call of volunteerism was Karla De Leon, SM City Manila's Assistant Mall Manager.
"The past two years have been very hard and difficult for everyone–that a small glimpse of hope is already enough to
keep the ones still fighting, continue to fight. This activity connects us to our communities amidst our business and
workload in the mall. I volunteered to be able to feel and experience the true spirit of Christmas while being able to represent my organization."
With zeal, she acted as the activity coordinator, pulling together everyone willing to join and arranging everything
needed to make the gift-giving a moment to remember. She became the medium—from information dissemination to embodiment of how the Christmas Cheers was envisioned to be.
Through similar activities initiated by SM group, Karla and her fellow volunteers from SM City Manila saw the importance of volunteerism and inspired them to be part of more valuable causes.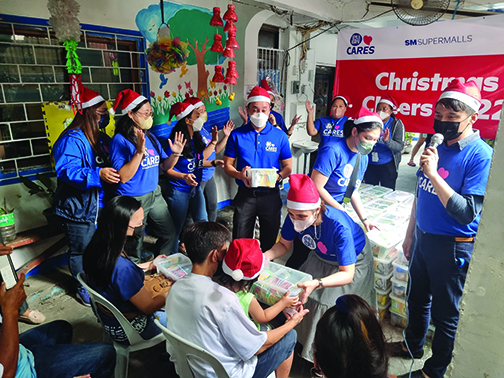 "I have always been grateful to be part of the SM group and I am proud that the organization I am in has this innate generosity, especially to the underserved communities," she said. "With this, our Christmas Cheers has been successful because of sincere volunteers who really wanted to be part of this activity."
Karla is just one of the many employees carrying the SM culture and philosophy of People Helping People. Through
SMFI's various initiatives, she found passion and purpose in volunteerism.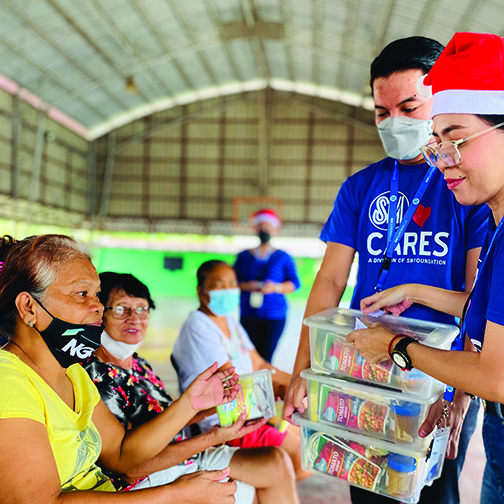 SM group, through SMFI, paves ways
for their employees to help the country rise above crises. They take part in beautifying and painting schools. They
lend a helping hand during typhoons, flooding, fire, and other disasters. They go beyond the realms of volunteerism
by establishing in their communities a culture of spreading social good.